Sensual experiments, unofficial histories, dreamlike worlds… cinema can give us things that nothing else can. And in an age where our own tastes and preferences are delivered to us by an algorithm, MUBI offers a different way to experience film: a wide-ranging service with experts who cater for niche interests and curated content that takes the pain out of endless scrolling. 

With its consistently sharp-eyed and cultured selection of films, MUBI takes you to cinematic locales that you would never have arrived at of your own volition – and is all the more effective and delightful for it. In addition to its unique streaming service, MUBI is also a production company and distributor for new films, and has expanded its output to include a publication on film culture in print and online (Notebook), English- and Spanish-language podcasts, and a cinema ticket scheme (MUBI GO). 

Across our extensive collaboration with MUBI, our ongoing task is to communicate their platform as the best destination for great cinema, online and offline. Their commitment to and undeniable love for cinema as an art form is fundamental to their success and has informed our approach toward creating a rigorous and complex visual language that supports this obsession. 

We refined and progressed their identity, which is built around a logo-mark – which we developed to give it a more positive, active character – plus a strong but flexible supporting typographic structure. This foundation, plus a responsive colour palette which offers a range of emotive options, allows myriad opportunities for creative expression. We also used abstract circular forms and distinctive gradations of colour to create an extensive and artful visual language. 
We have also created MUBI's new ident, inspired by Henri-George Clouzot's L'Enfer (The Inferno, 1964), a film that was never finished but was presented as a documentary in 2009 by the director Serge Bromberg. L'Enfer was influenced by the art of the time, particularly the optical artists Victor Vasarely and Jean-Pierre Yvaral, who were both known for using shapes, colours and patterns to create images that look as if they are moving or blurred. The film is also noted for its innovative and psychedelic lighting techniques, literary references to Dante and Marcel Proust, and the chaotic production process that caused it to be abandoned, involving a record-breaking heatwave, the possible illness of the leading man, and Clouzot's own hospitalisation. 

We synthesised the ideas suggested by the film and its history into an abstract but deeply suggestive journey through an imaginary MUBI landscape that takes in the history of film, from the classic black and white world of Golden Age Hollywood through to glorious colour and contemporary film. The colour palette is also very much inspired by Wong Kar Wai's films – rich, evocative and extremely beautiful. 

Experimenting with a blend of digital animation, projections and high-end digital cinema cameras, we have created a visual love letter to cinema that speaks of film just as much as it speaks of MUBI. Our work on the ident was accompanied by sound design from Pentagram's Yuri Suzuki. 
MUBI is more than just a streaming service; it's also a multi-media venue for discussion and criticism. As such, their offering includes a podcast dedicated to film history and analysis. The first season, 'Lost in Translation', highlights films that were massive cultural phenomena in their home countries but nowhere else. Our identity for the podcast is imbued with the magic of cinema, evoking a glowing film screen in a three-dimensional treatment of the MUBI logo, layered over evocative film stills.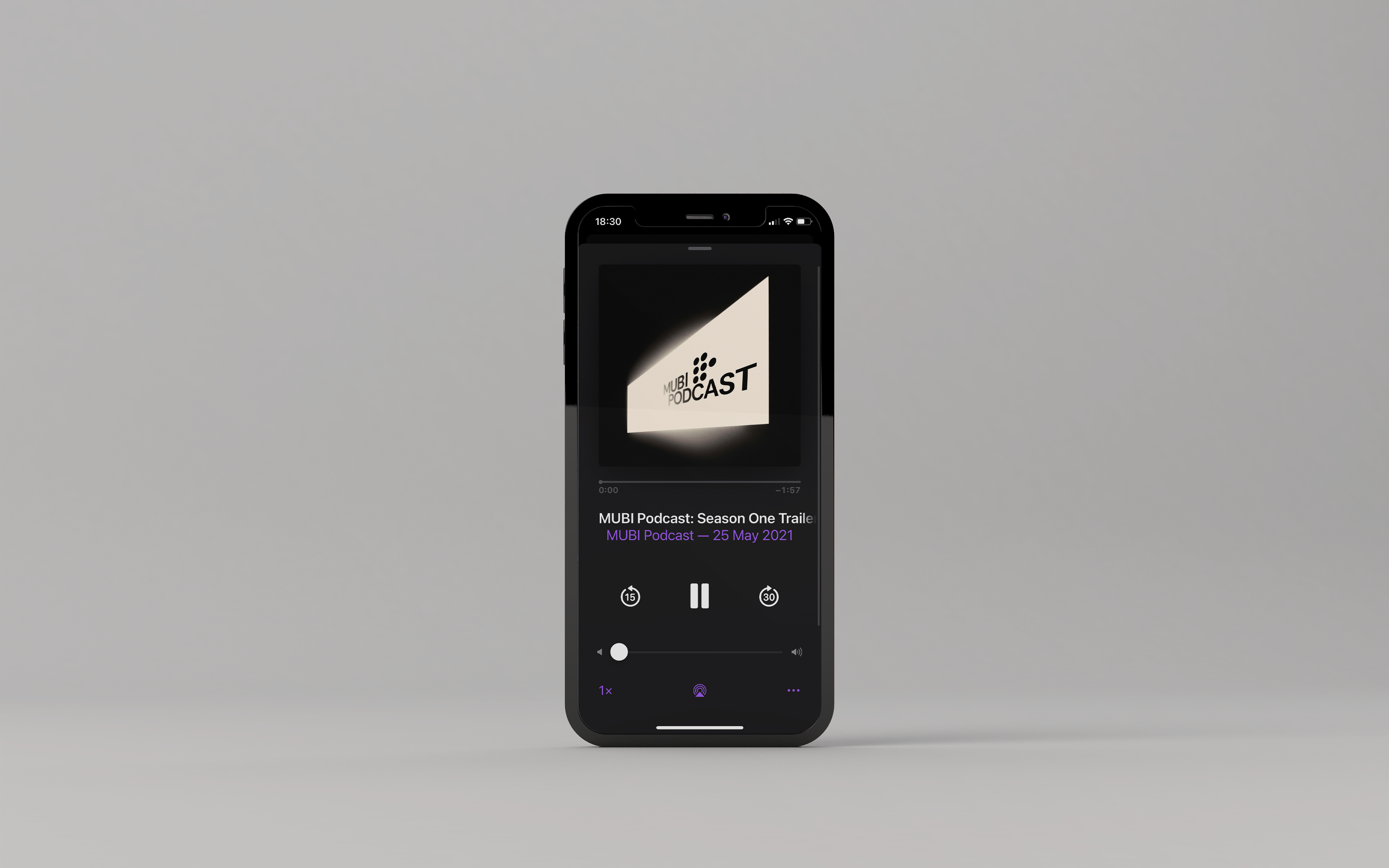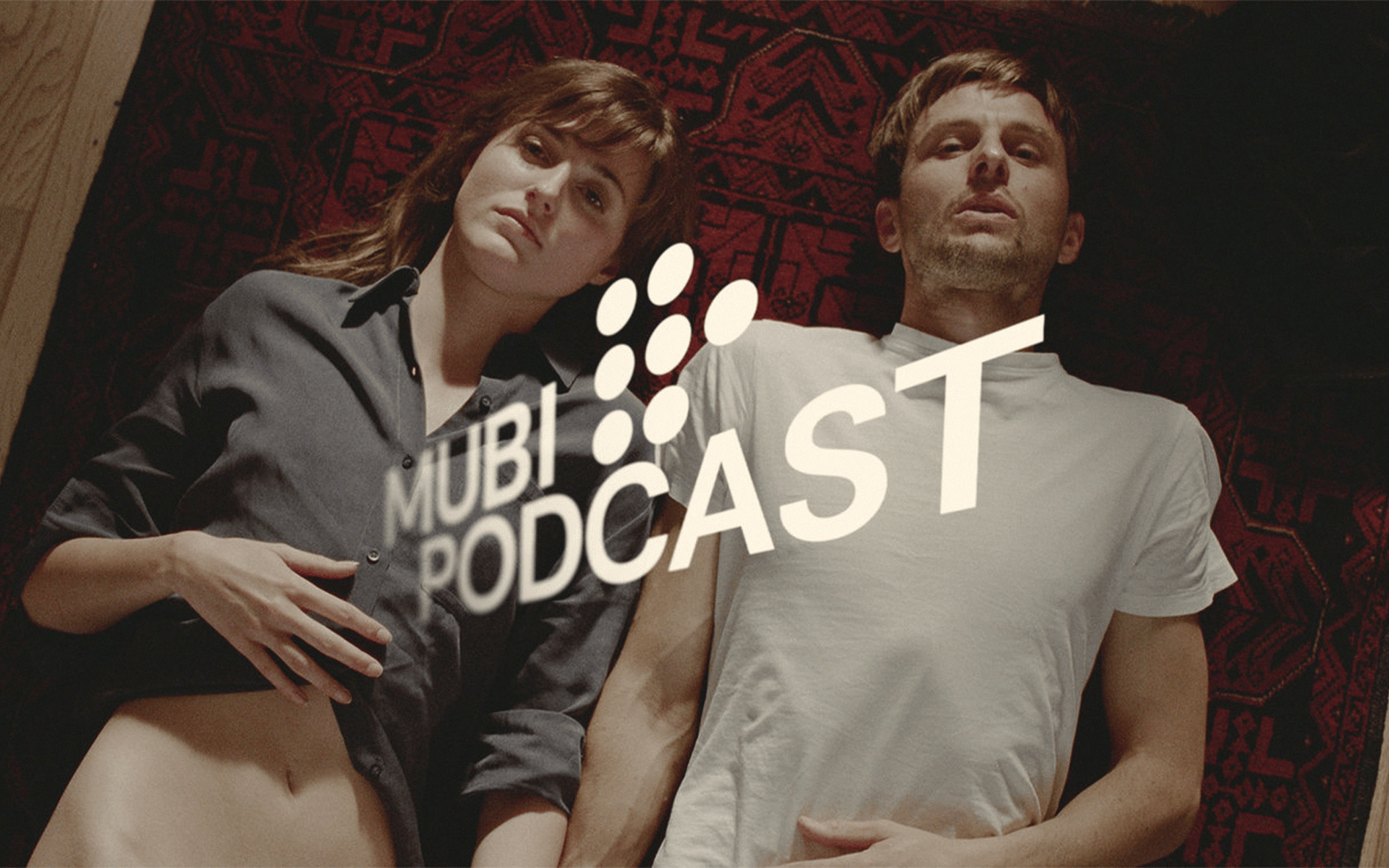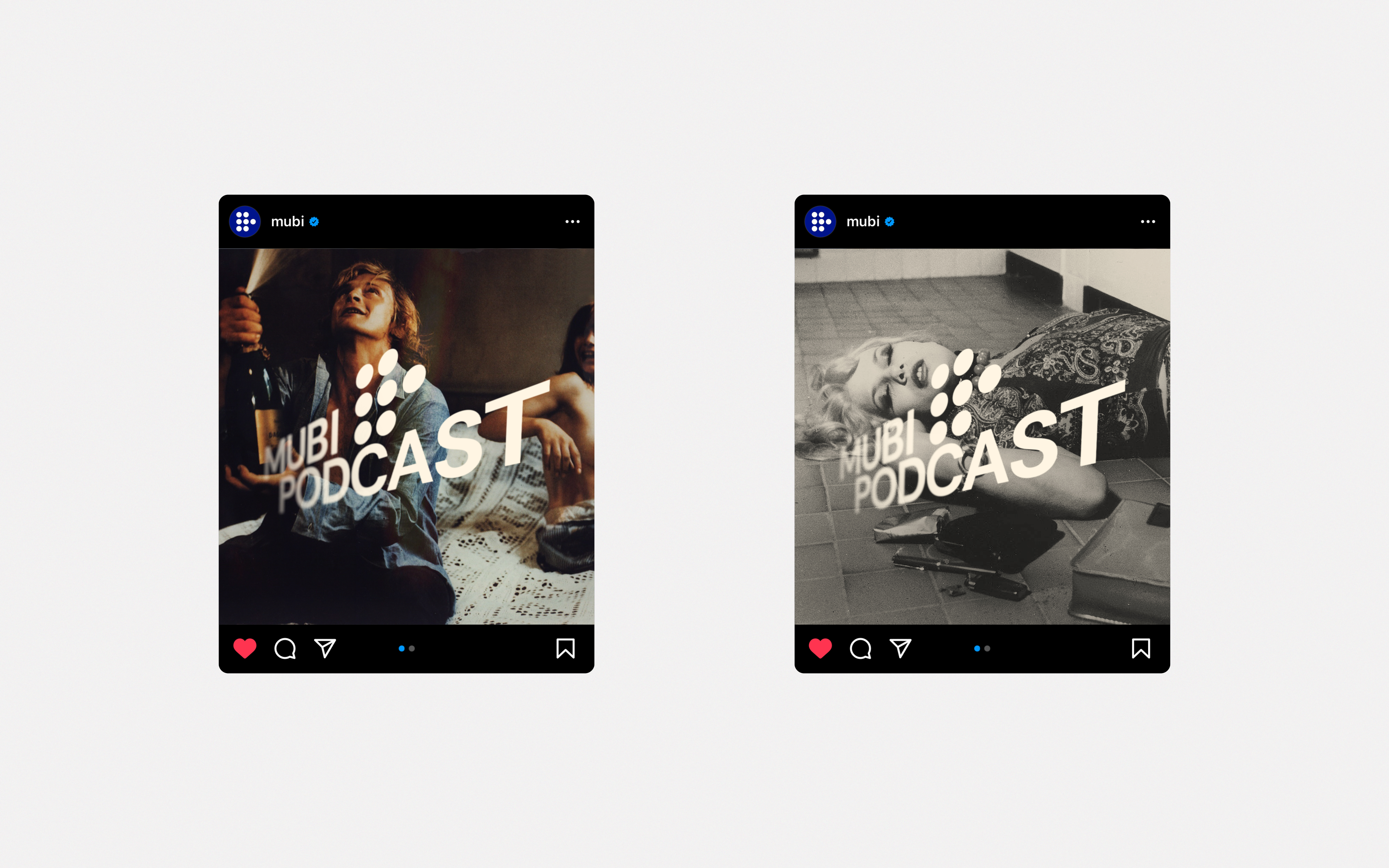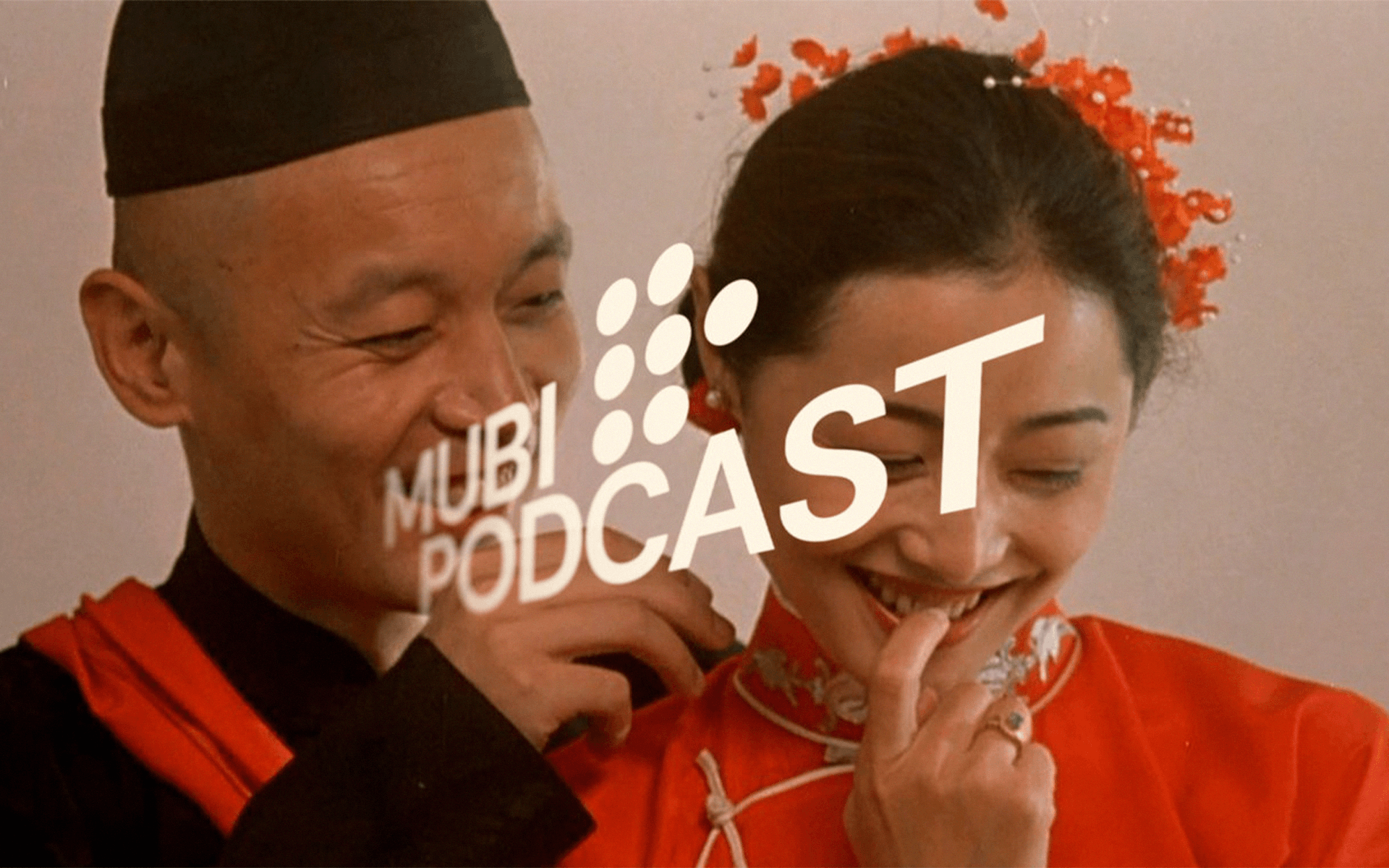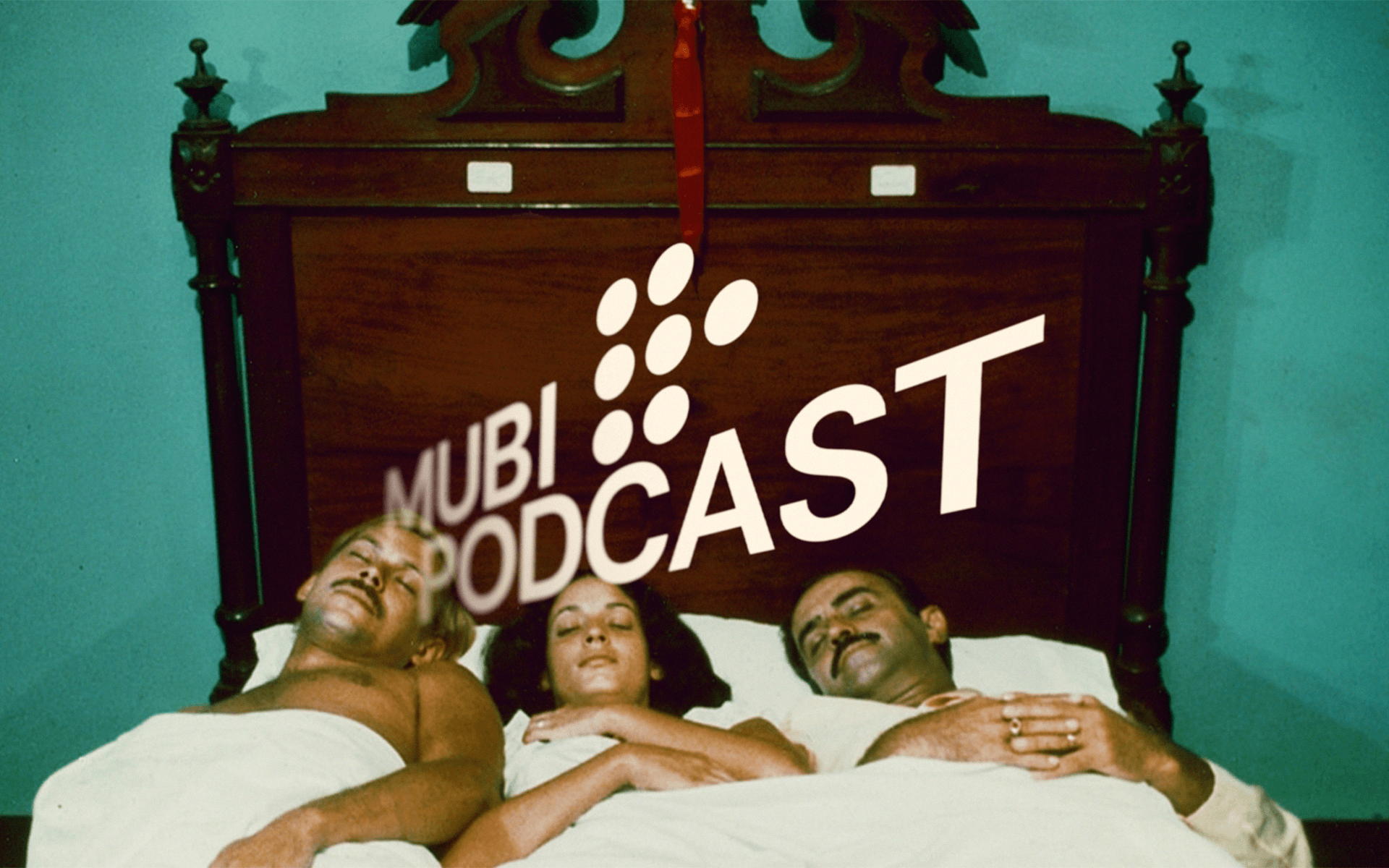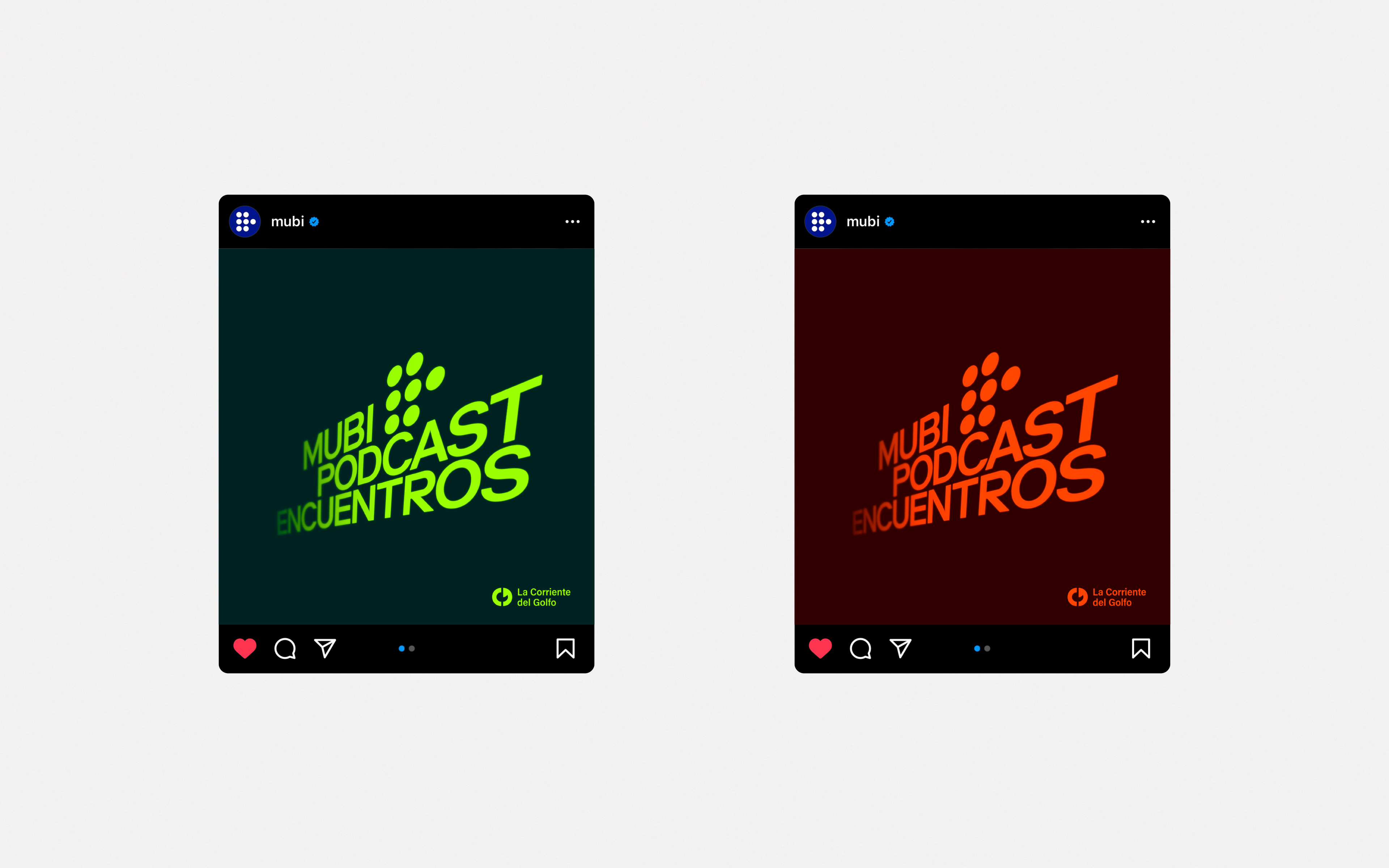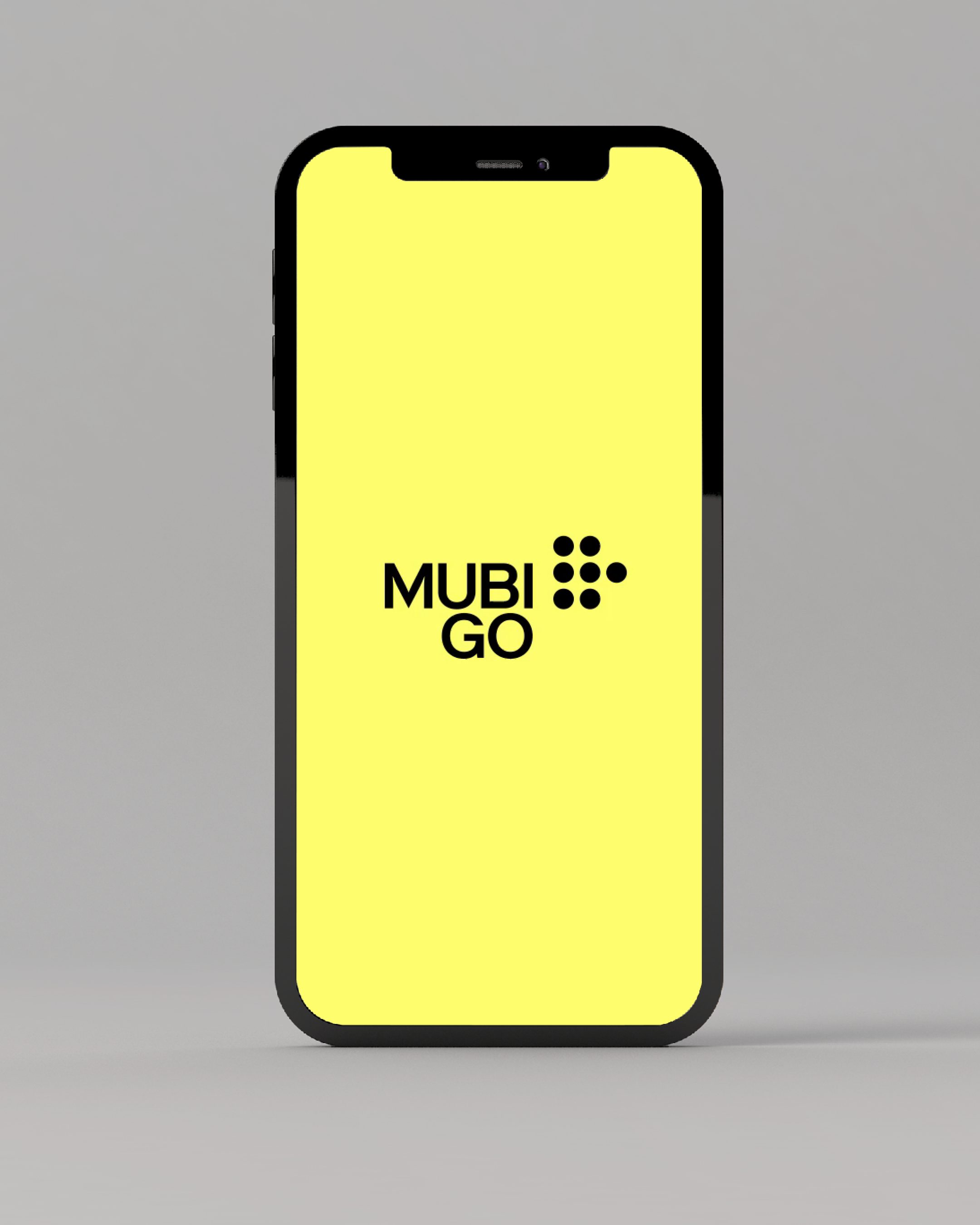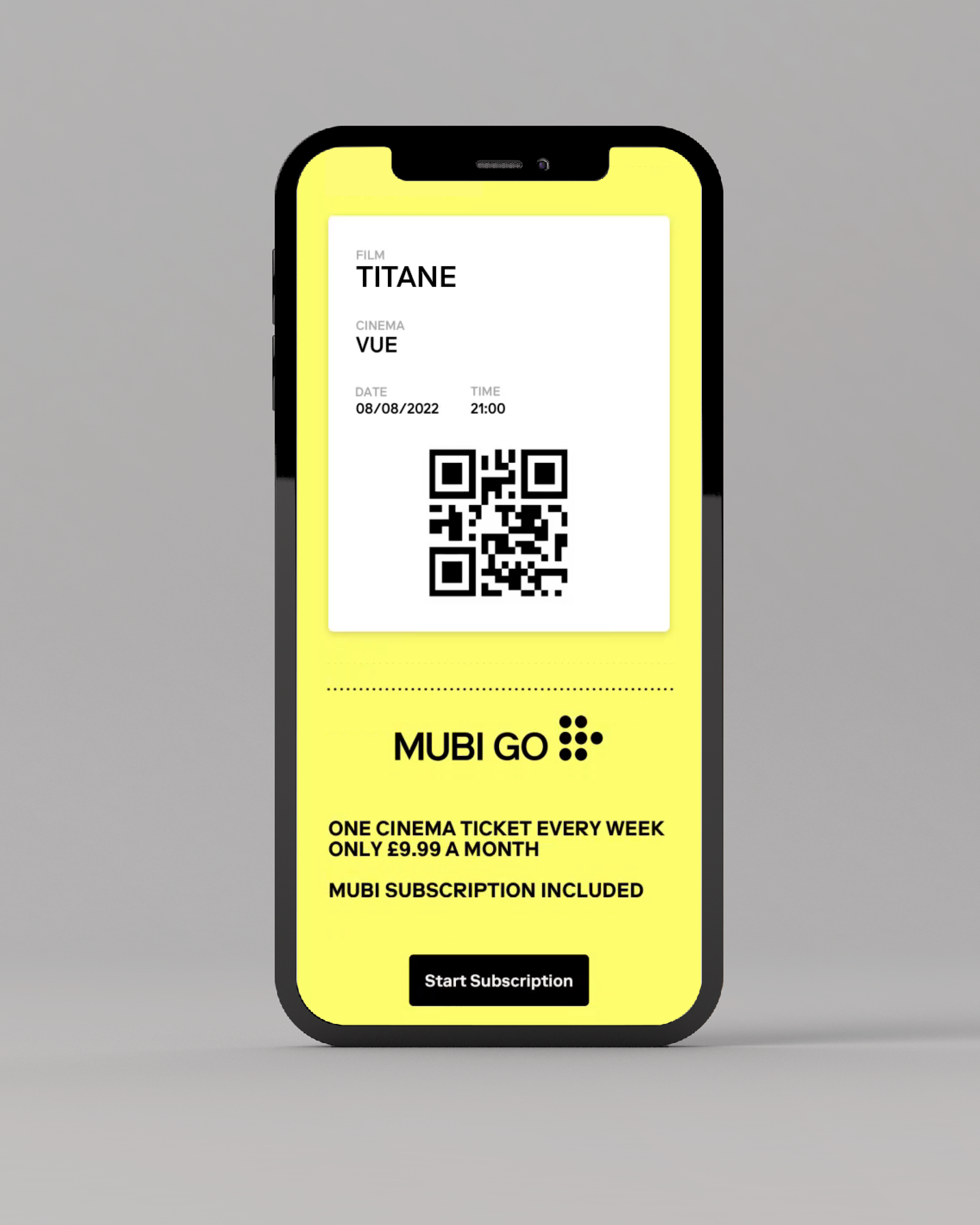 MUBI GO is an extra subscription service offered by MUBI and includes full access to their platform plus a weekly ticket to a cinema screening of a film selected by their curators. We have designed the visual appearance of the MUBI GO app, which makes use of an eye-catching bright yellow colour scheme and an uncluttered typographic layout. 
We have created several concepts for MUBI's large-scale out-of-home advertising campaign. One of these was displayed in the Zorlu Marka Tüneli, a 70-metre-long underground tunnel in Istanbul. We came up with the idea of an exhibition of MUBI film posters, to be viewed by the public as they progressed through the tunnel, making full use of the space available to produce a beautiful and artistic campaign showcasing the best of MUBI's offering.