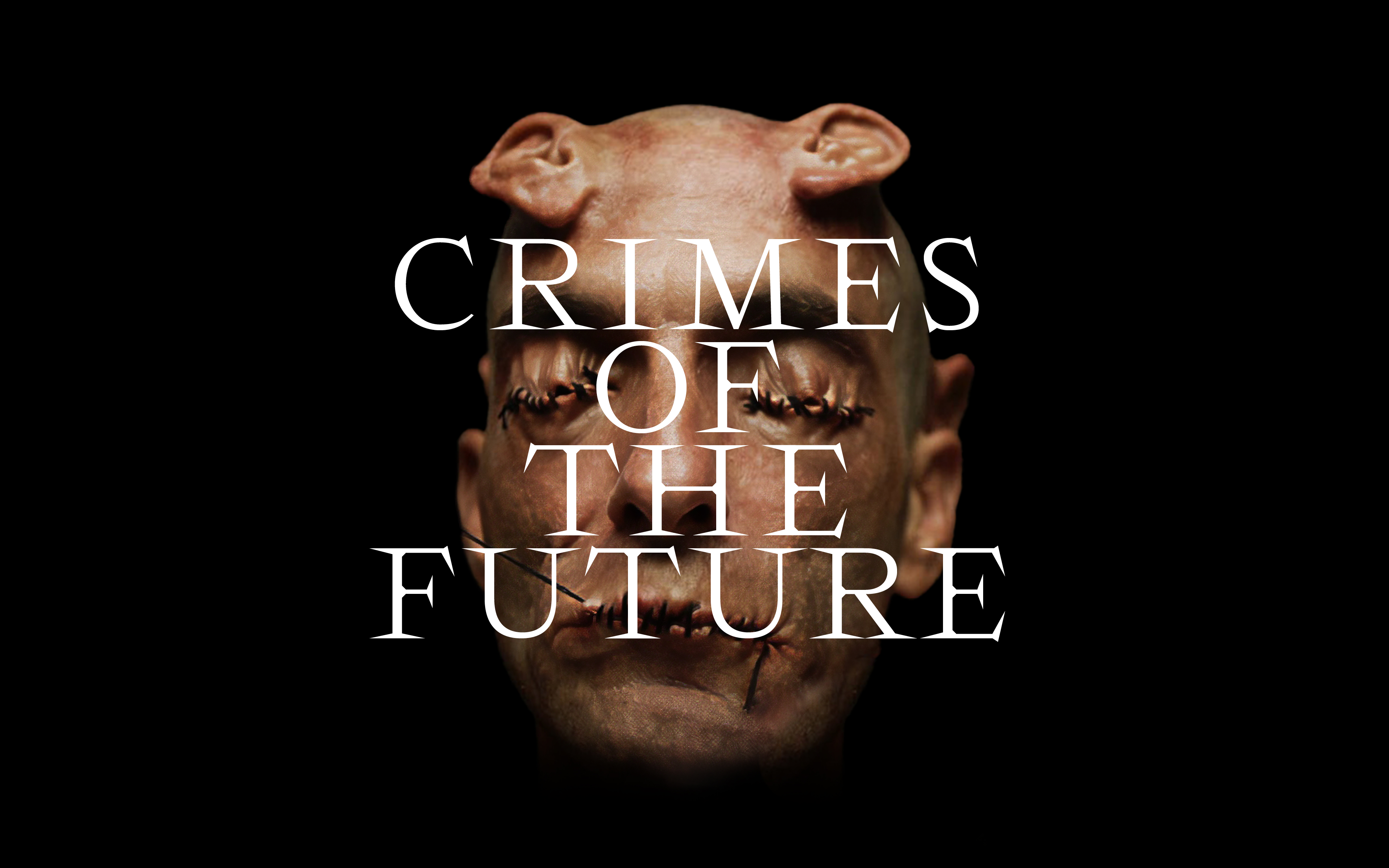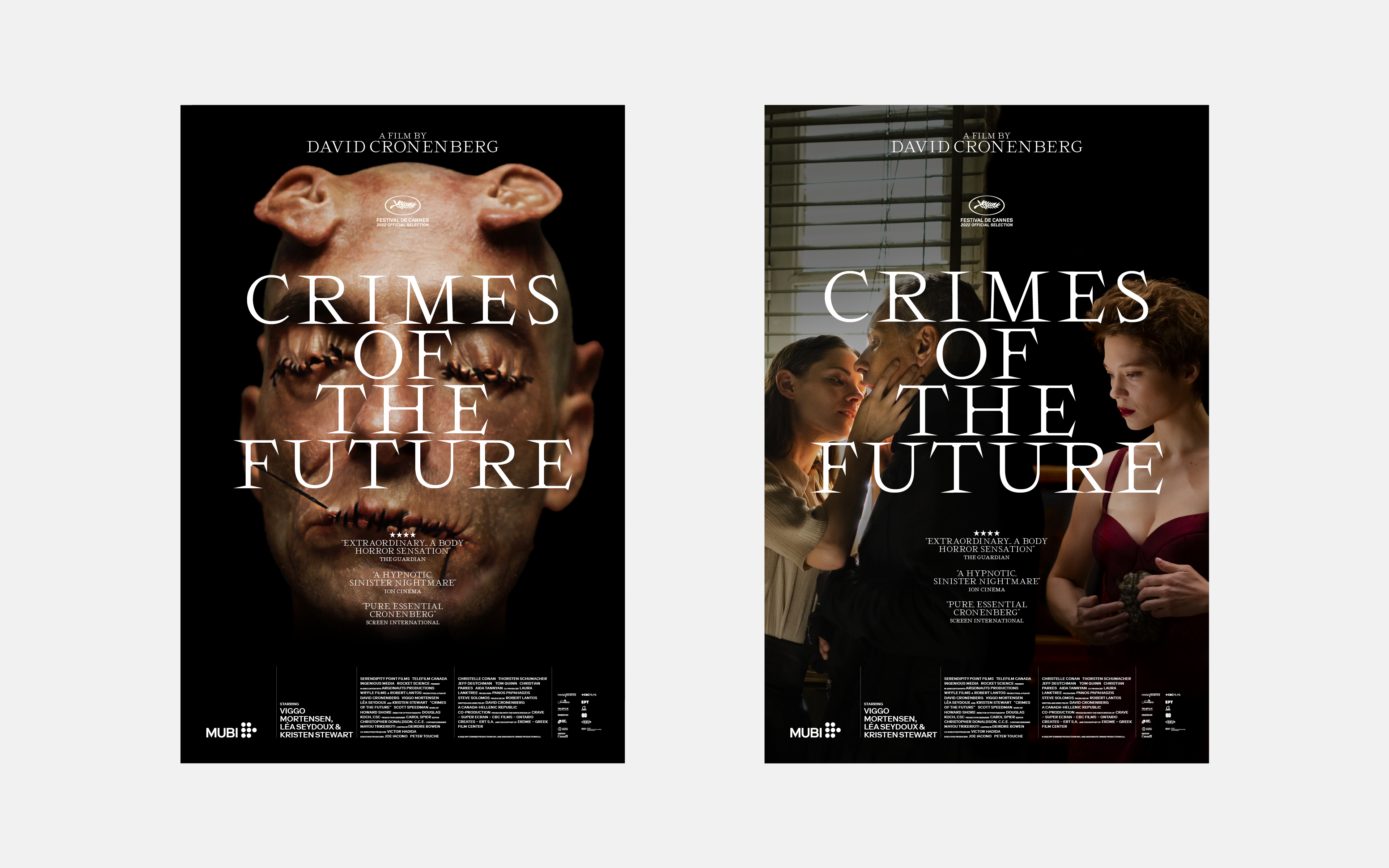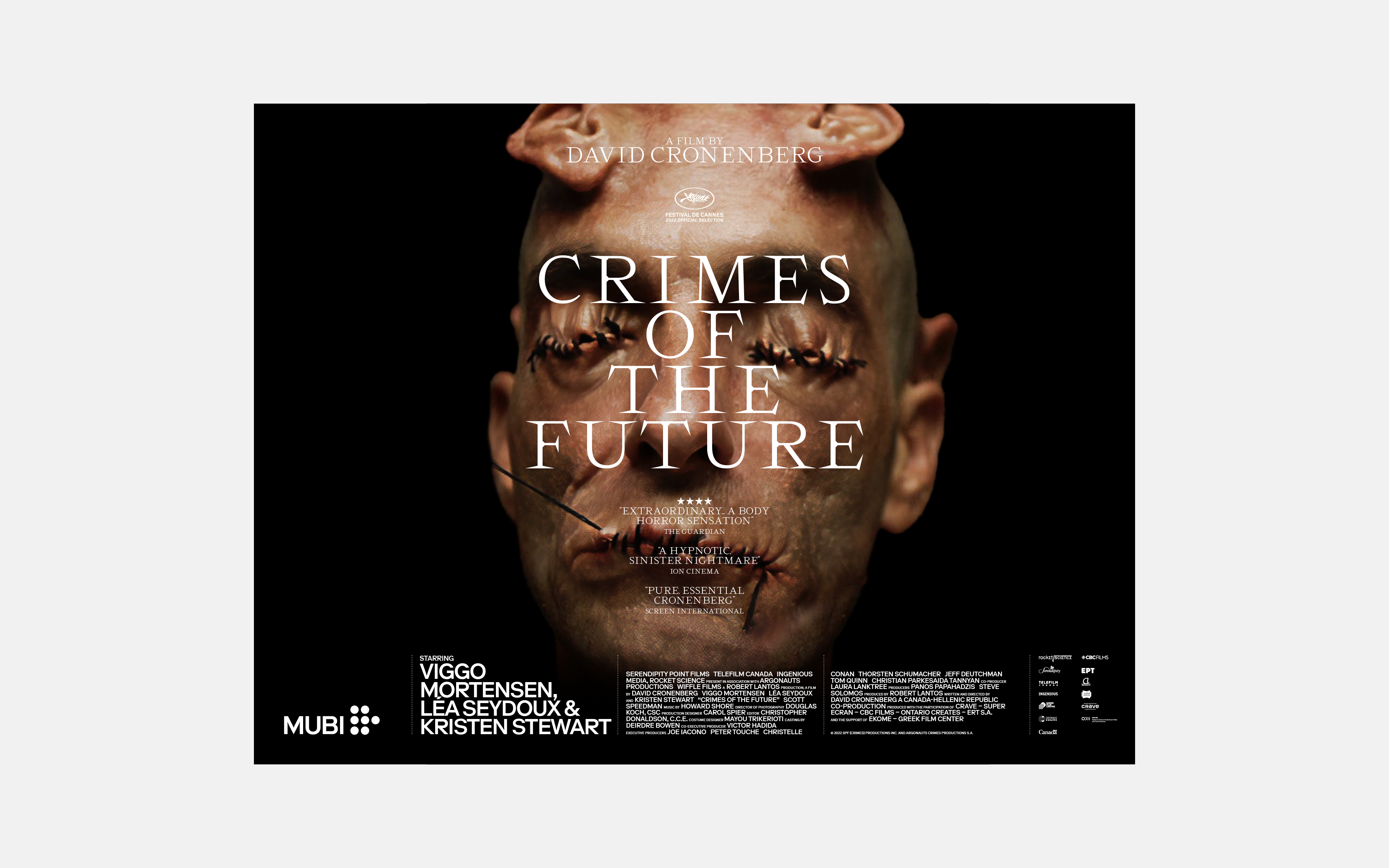 Legendary Canadian director David Cronenberg returns to his classic territory of body horror with Crimes of the Future. Starring Viggo Mortensen, Léa Seydoux and Kristen Stewart, the film uses Cronenberg's signature eye-catching writing and visual effects as a way into musings on art, politics and bitter social satire. Our campaign for Crimes of the Future is centred around a bespoke, variable typeface, extended across all the languages relevant to the markets in which MUBI has acquired the film — English, Turkish, Spanish and Portuguese. Its sharp serifs are emphasised by the light weight of the lettering and grow when animated to subtly invoke the surgical tools at the centre of the film's action. 
Memoria is the first English-language film from Thai director Apichatpong Weerasethakul. Released in 2021, it stars Tilda Swinton as a Scottish expat living in Colombia, who begins to hear unexplained sounds that no one else can. An enigmatic story that drifts into the territories of drama, mystery and science fiction, the film has drawn praise for its profound beauty and singular artistic vision. With its mystical-realist tone and compellingly drawn-out tempo, it is difficult to find another film that compares. Our poster designs for the film pay tribute to this sense of otherness, pairing striking visuals of lead actress Tilda Swinton with specially designed bespoke type. Inspired by the idea of making an alien, almost magical version of the alphabet, we have created a typographic language that matches the film's unique character.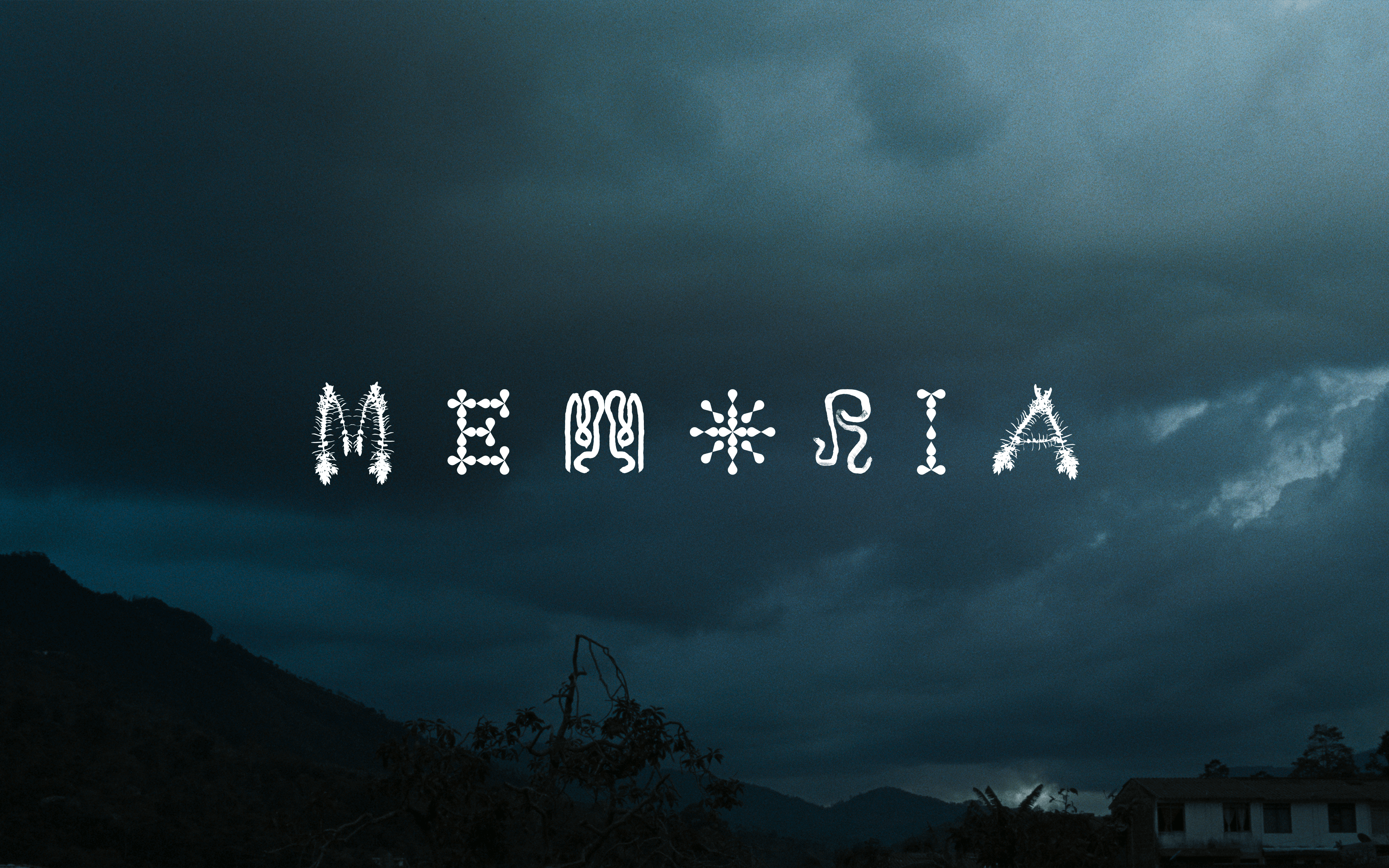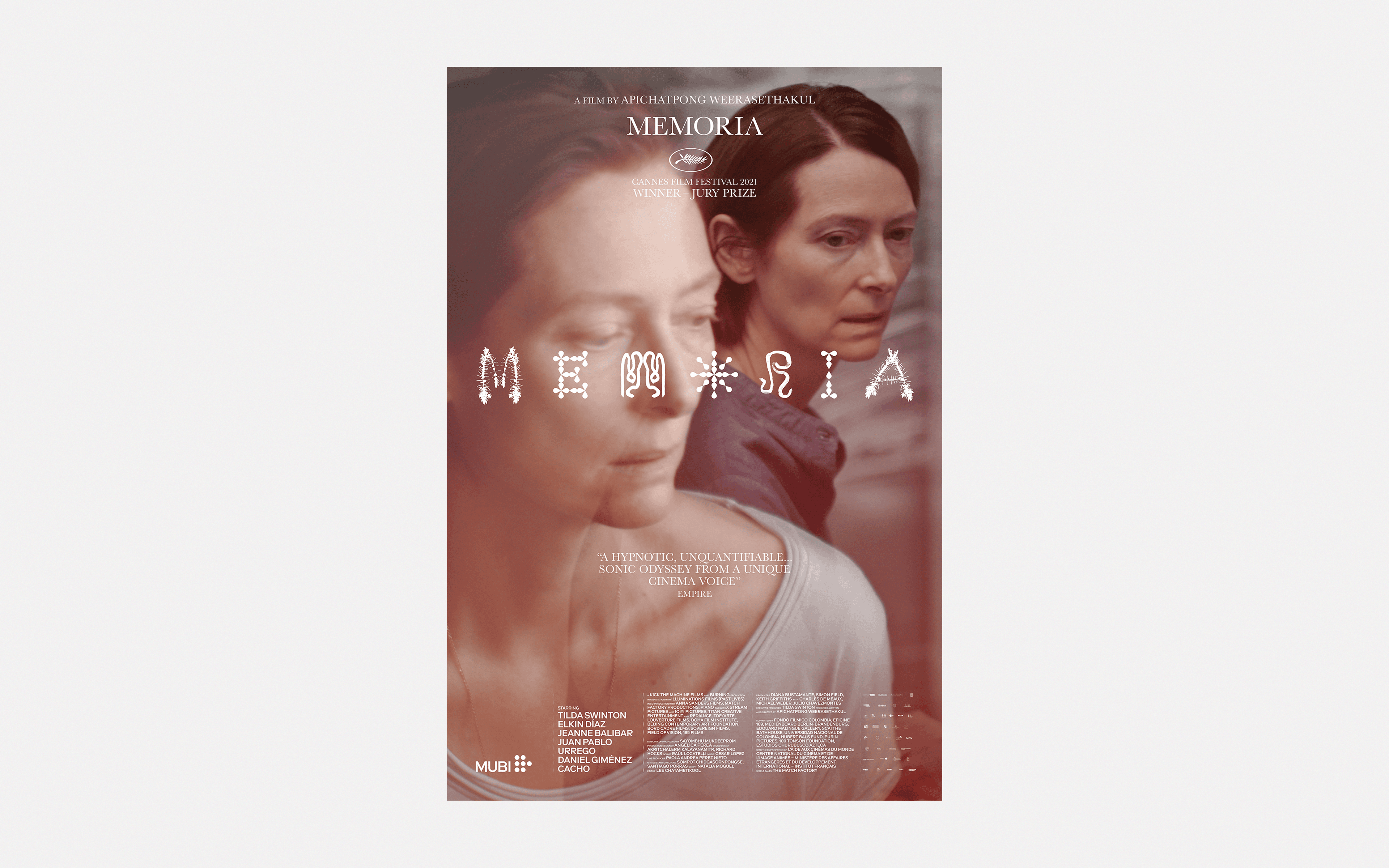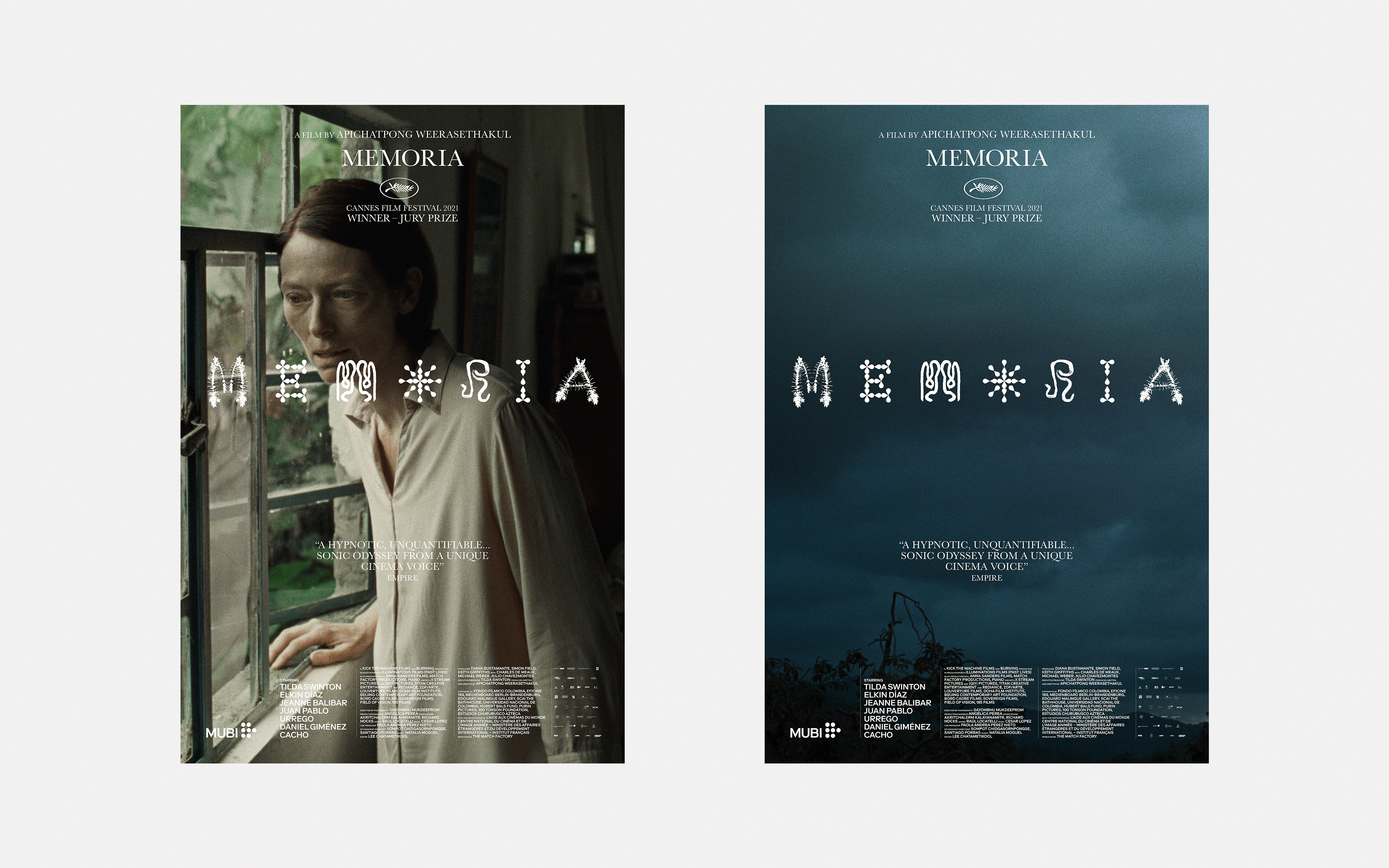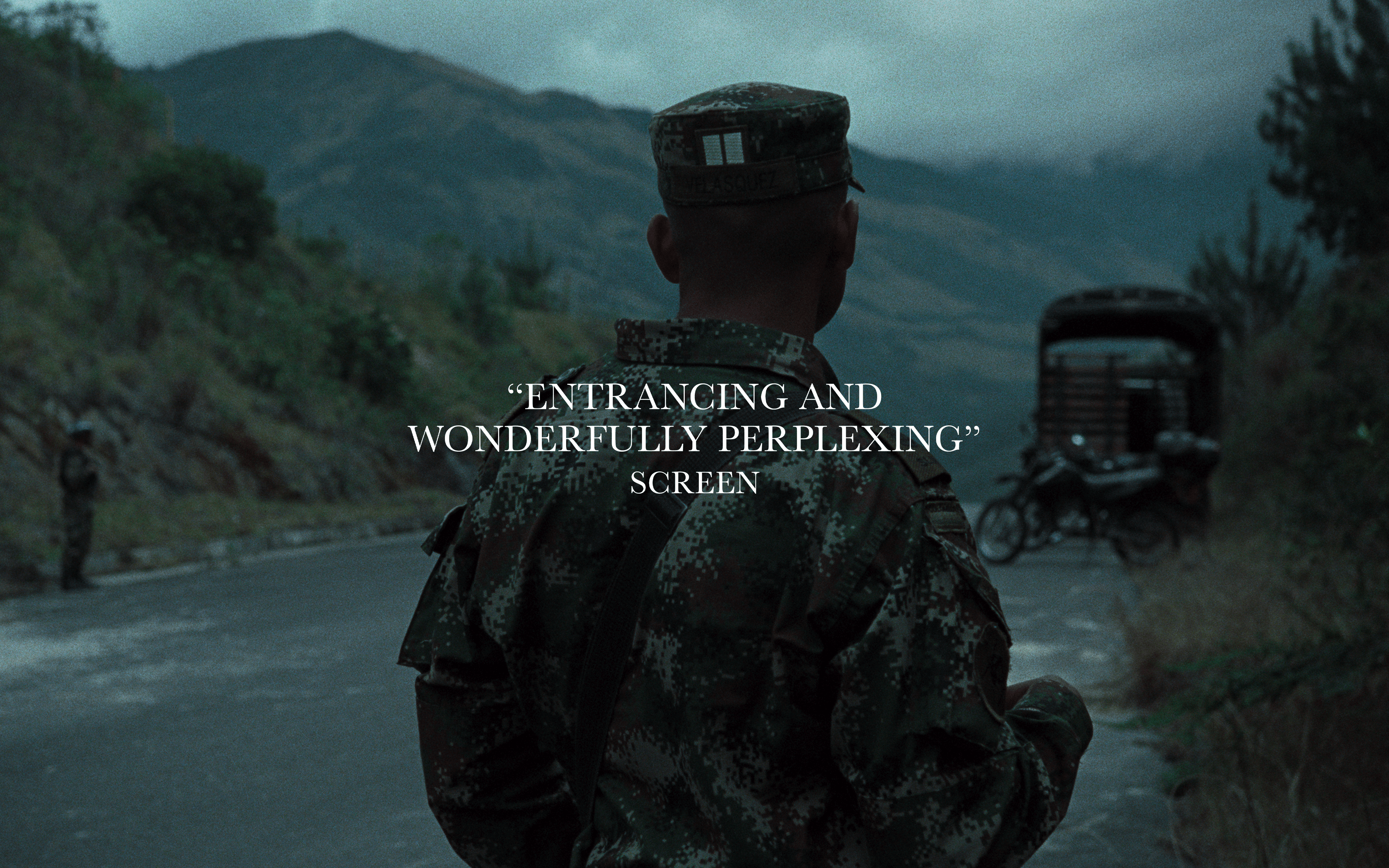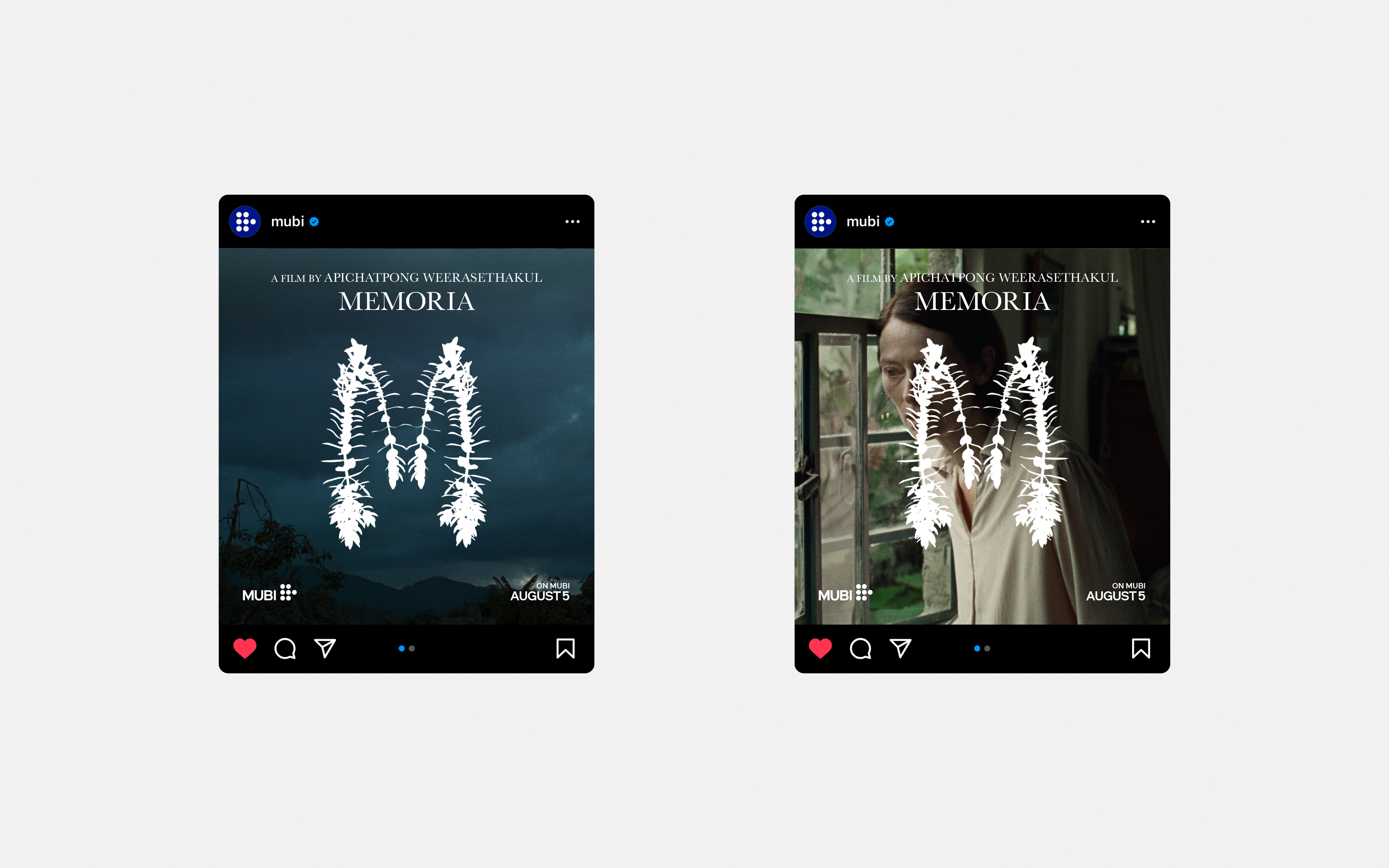 Sensational and lurid, ambitious and engrossing, Julia Ducournau's Palme d'Or-winning Titane tells an adrenaline-fuelled story around the themes of gender identity, relationships and the fusion of the human and the mechanical. Our visual language for the campaign is similarly raw and uncompromising, with bespoke title typography combining with a key visual to reflect the film's high-octane pulse. This is brought to life on posters for the film and in our animated title treatment.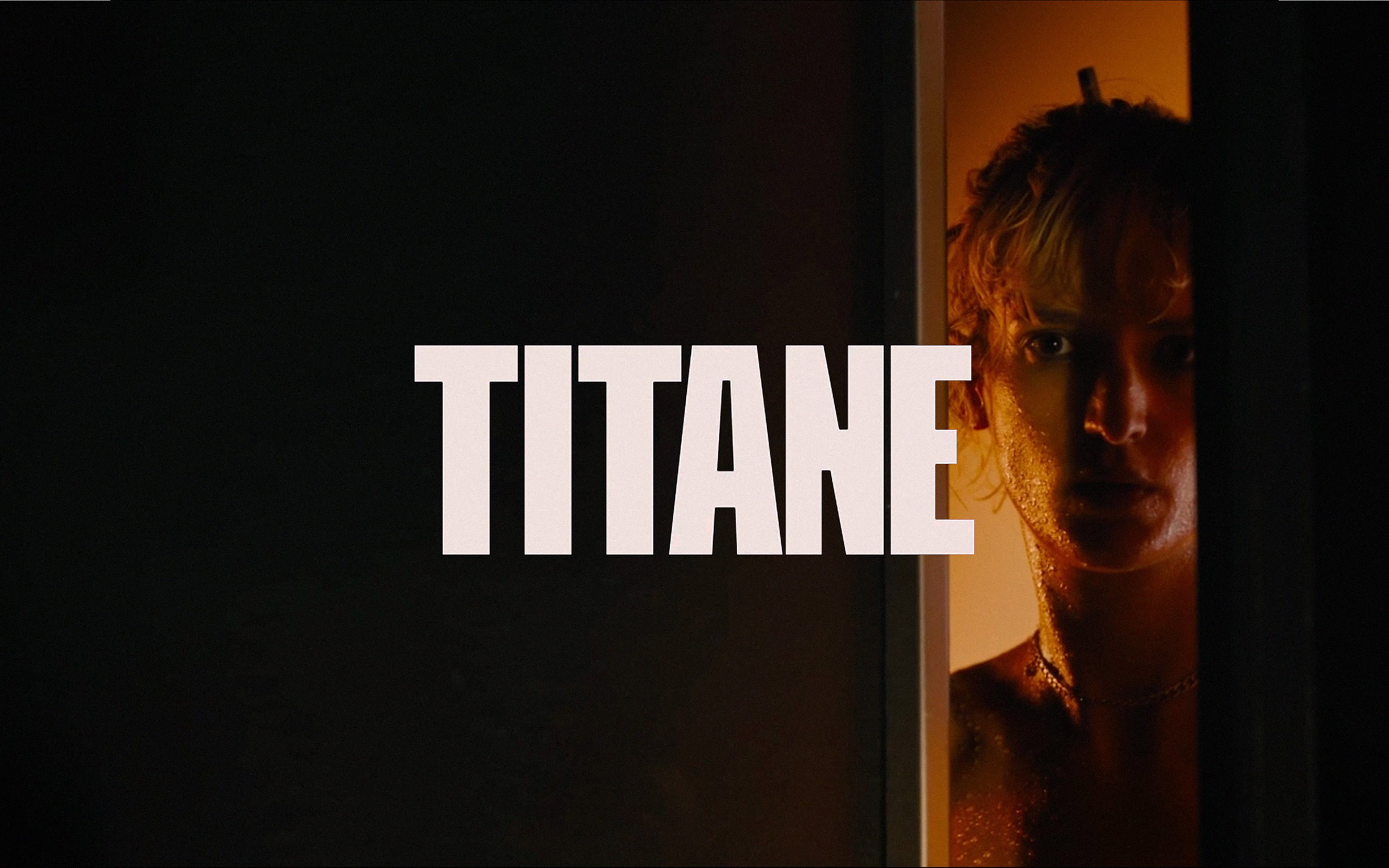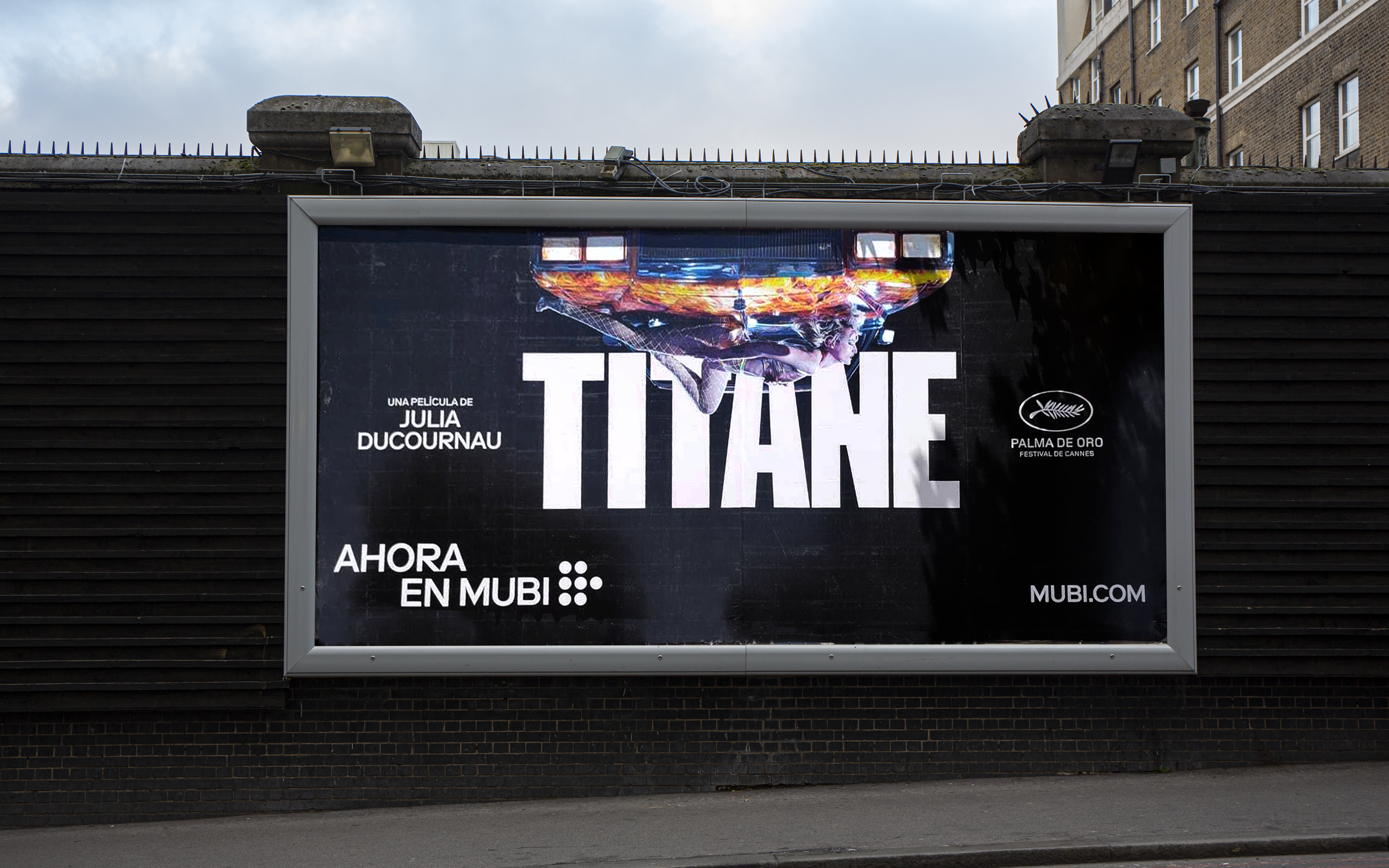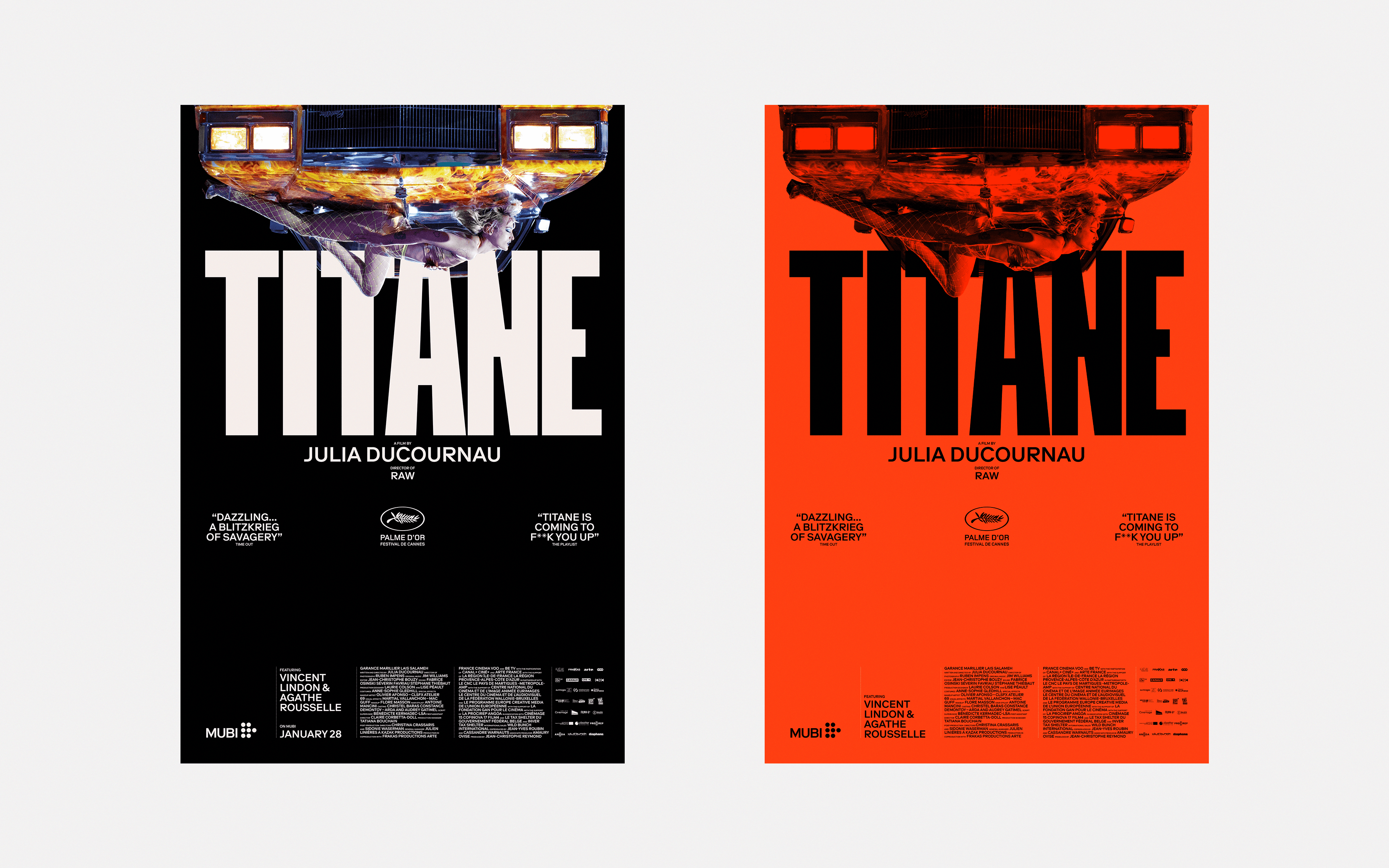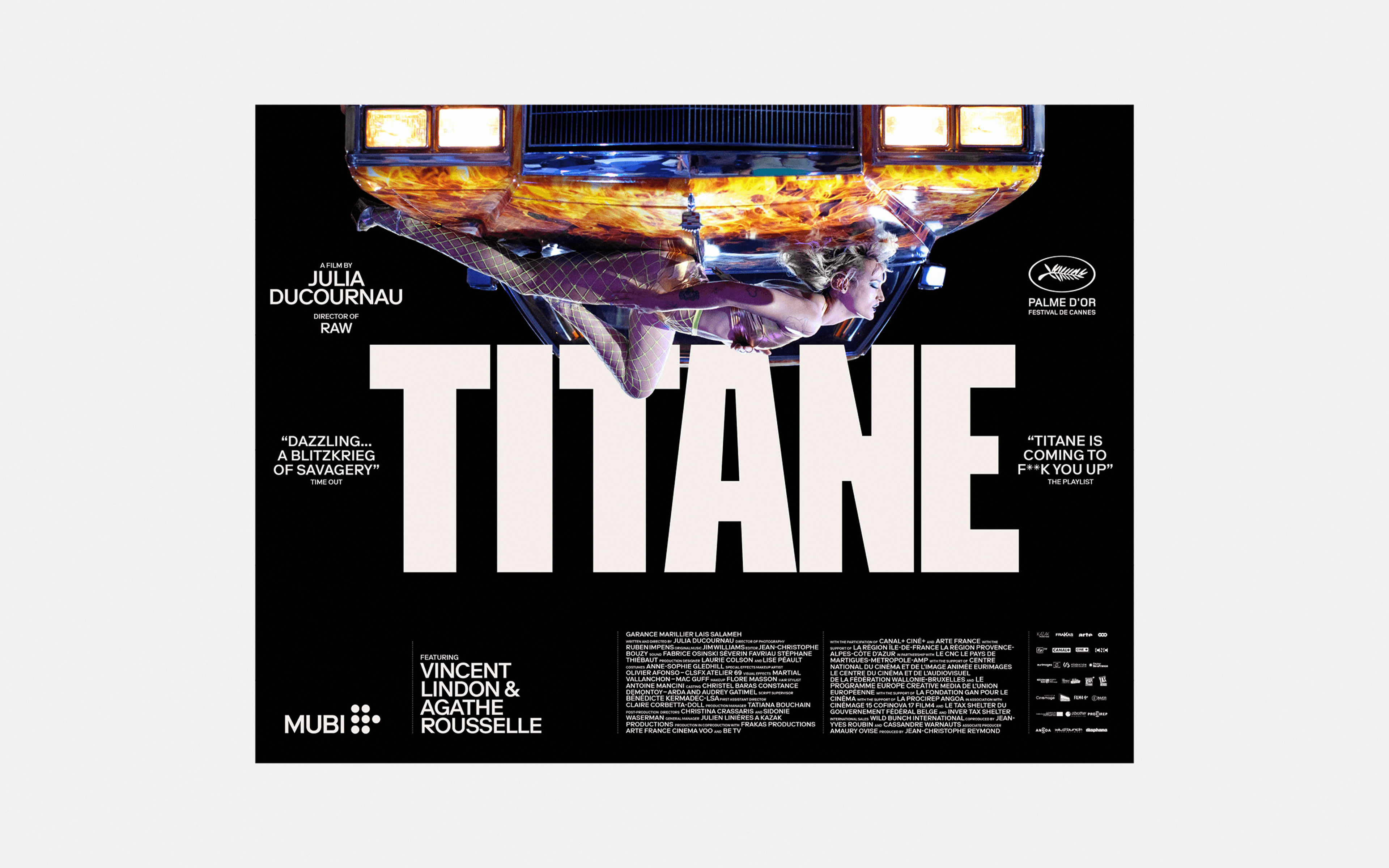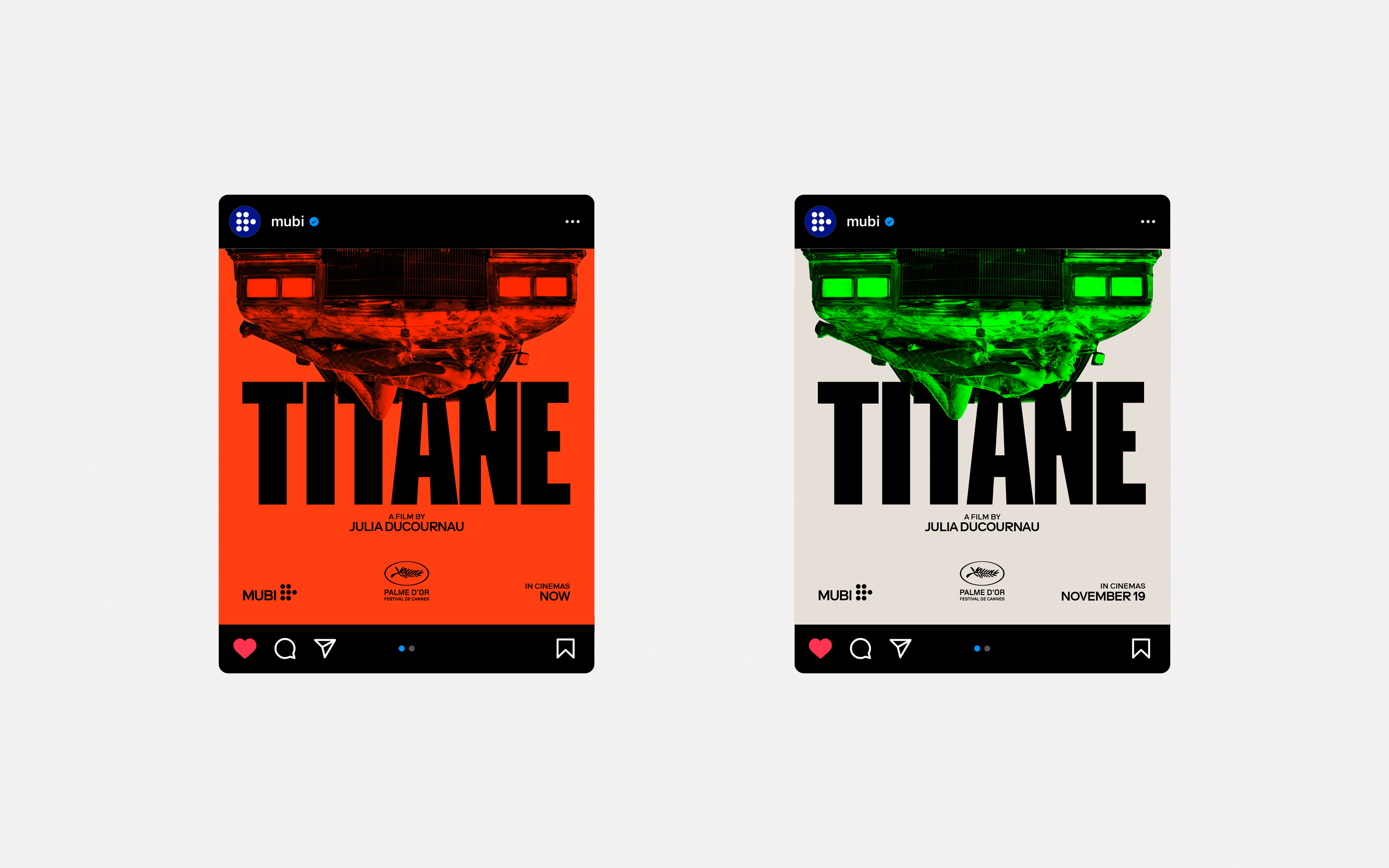 A genre-bending hybrid of ghost story and family drama, French director Céline Sciamma's latest film is the haunting and intimate Petite Maman. Our posters and trailer for the film use elegant typography and sensitive shades of colour that play into the film's delicate take on the the influence of the past on the present and its exploration of mother/daughter relationships.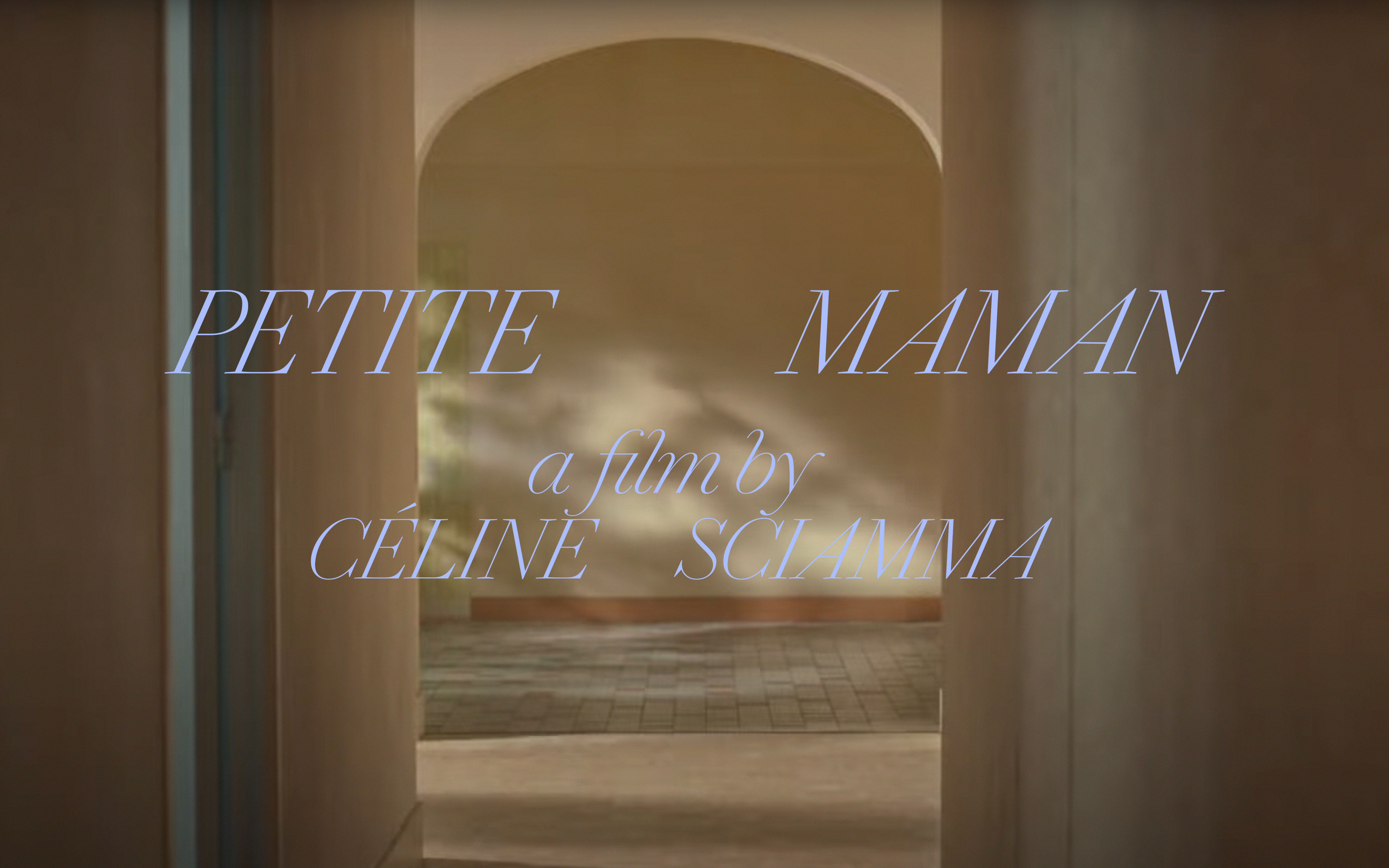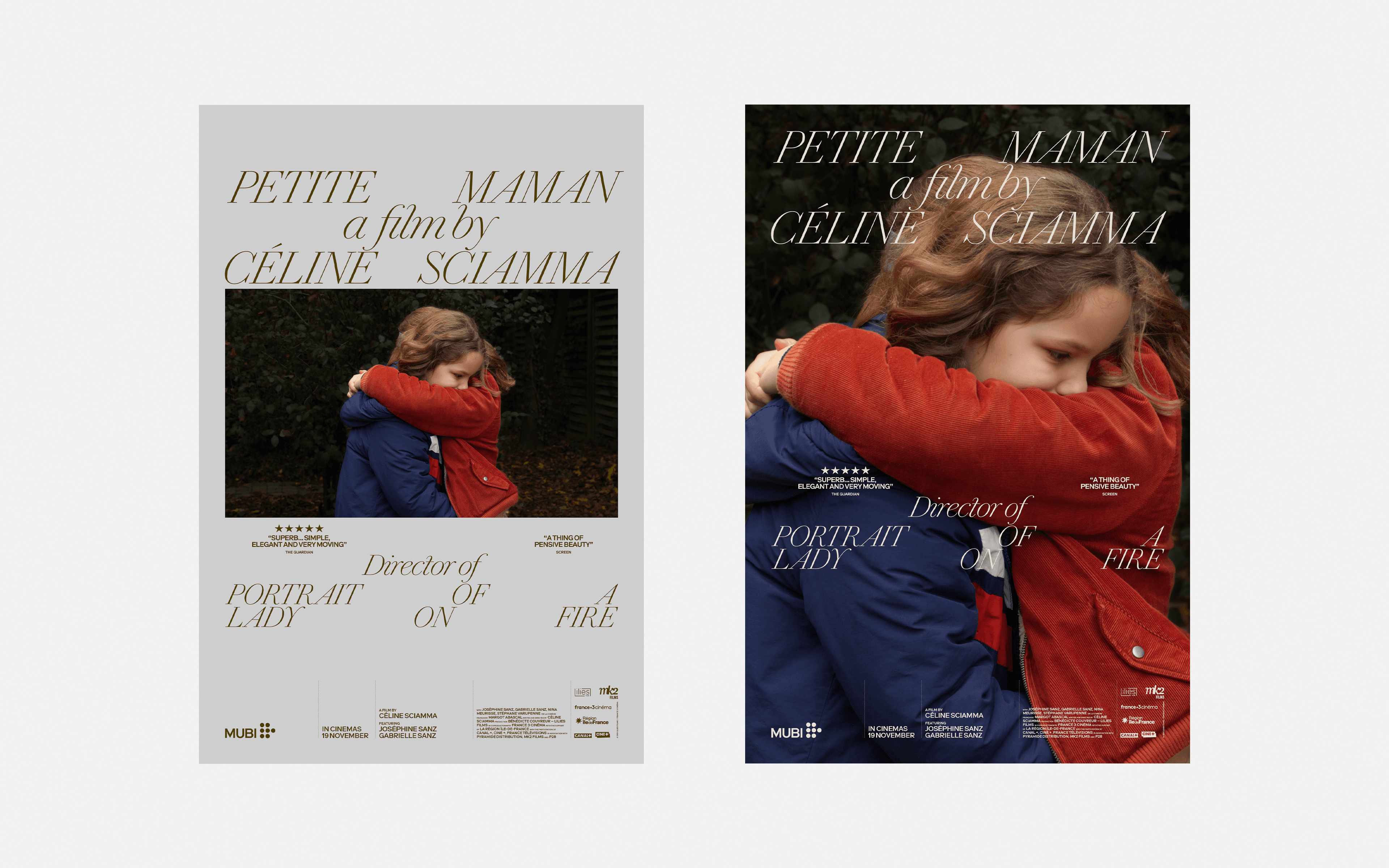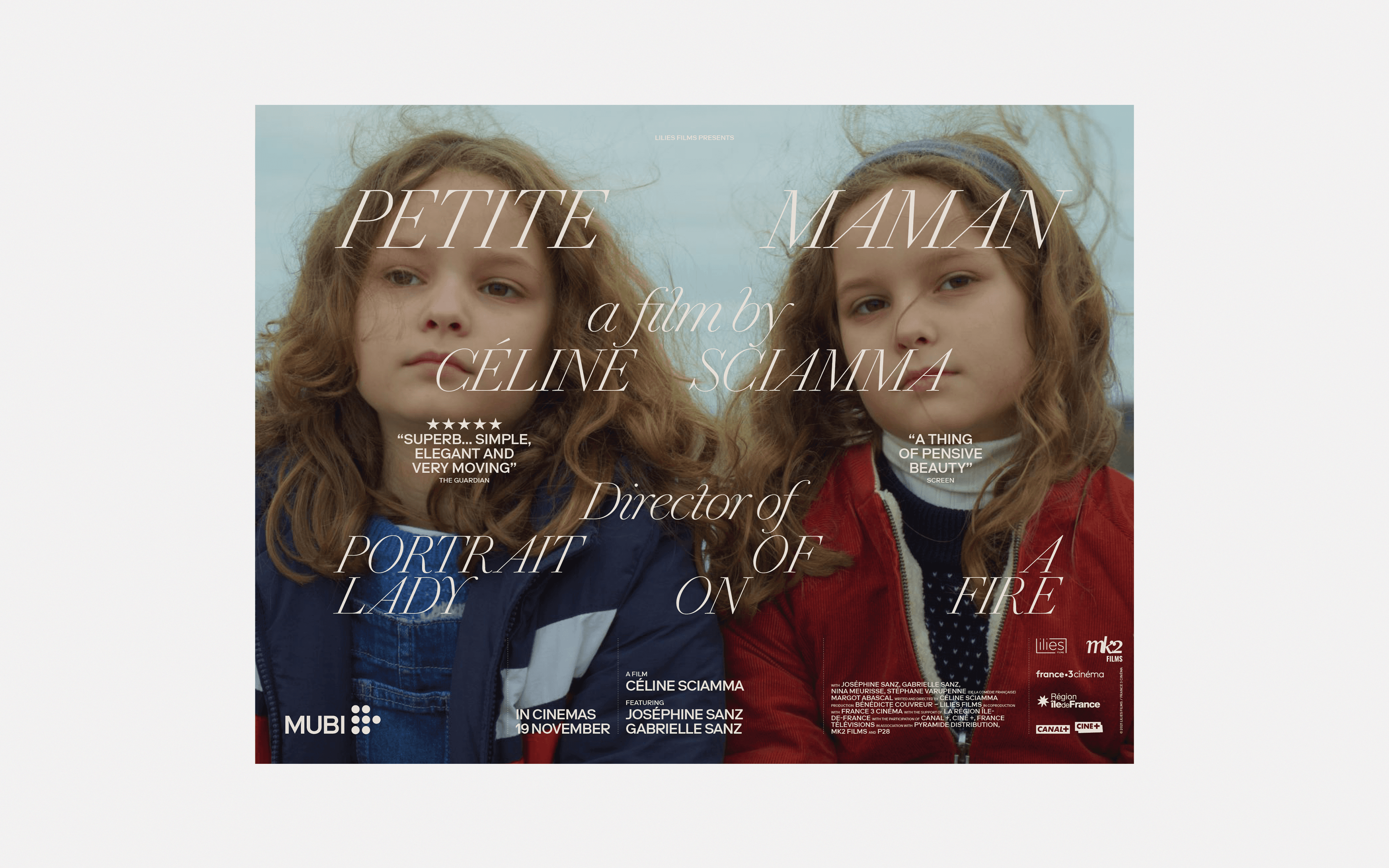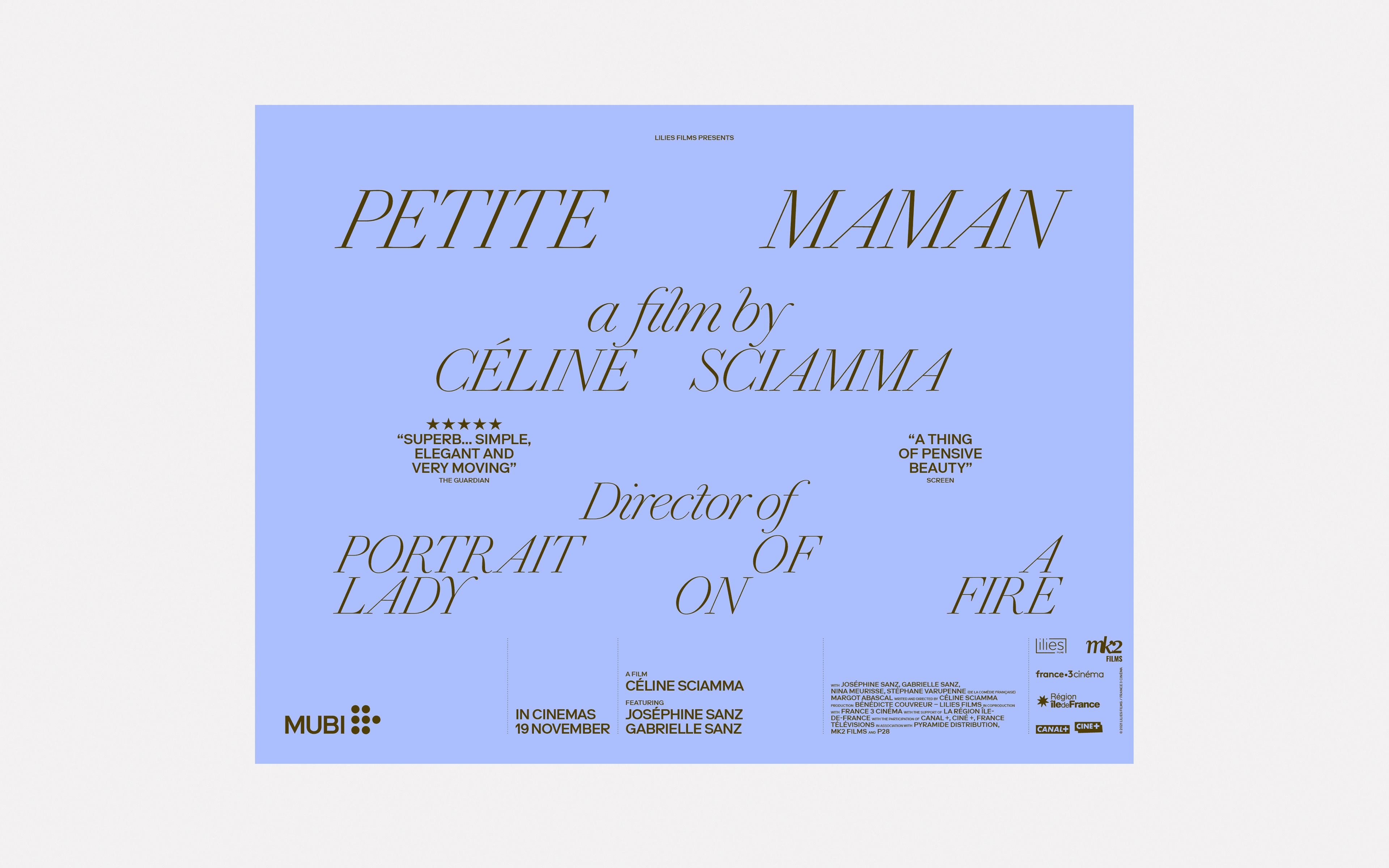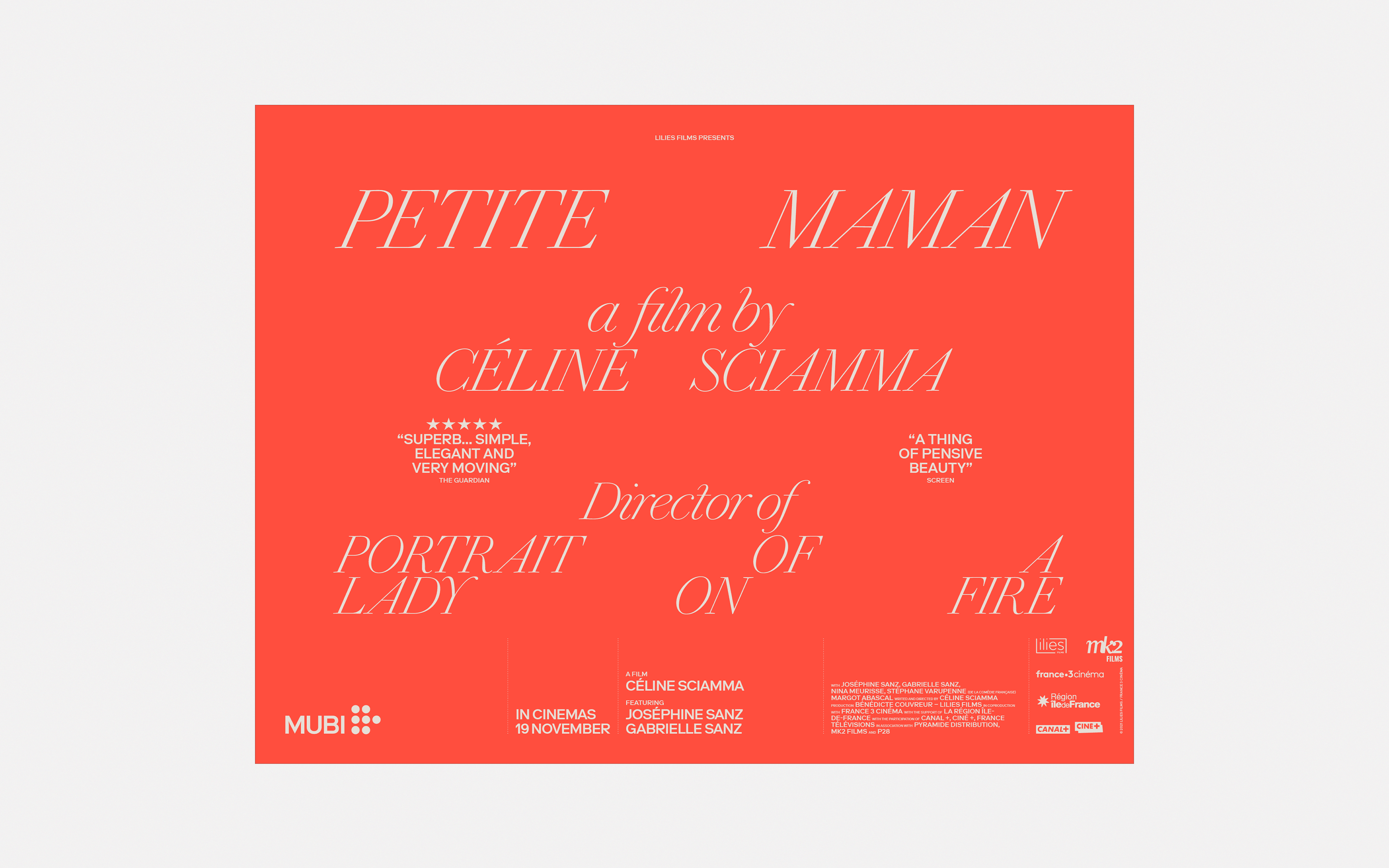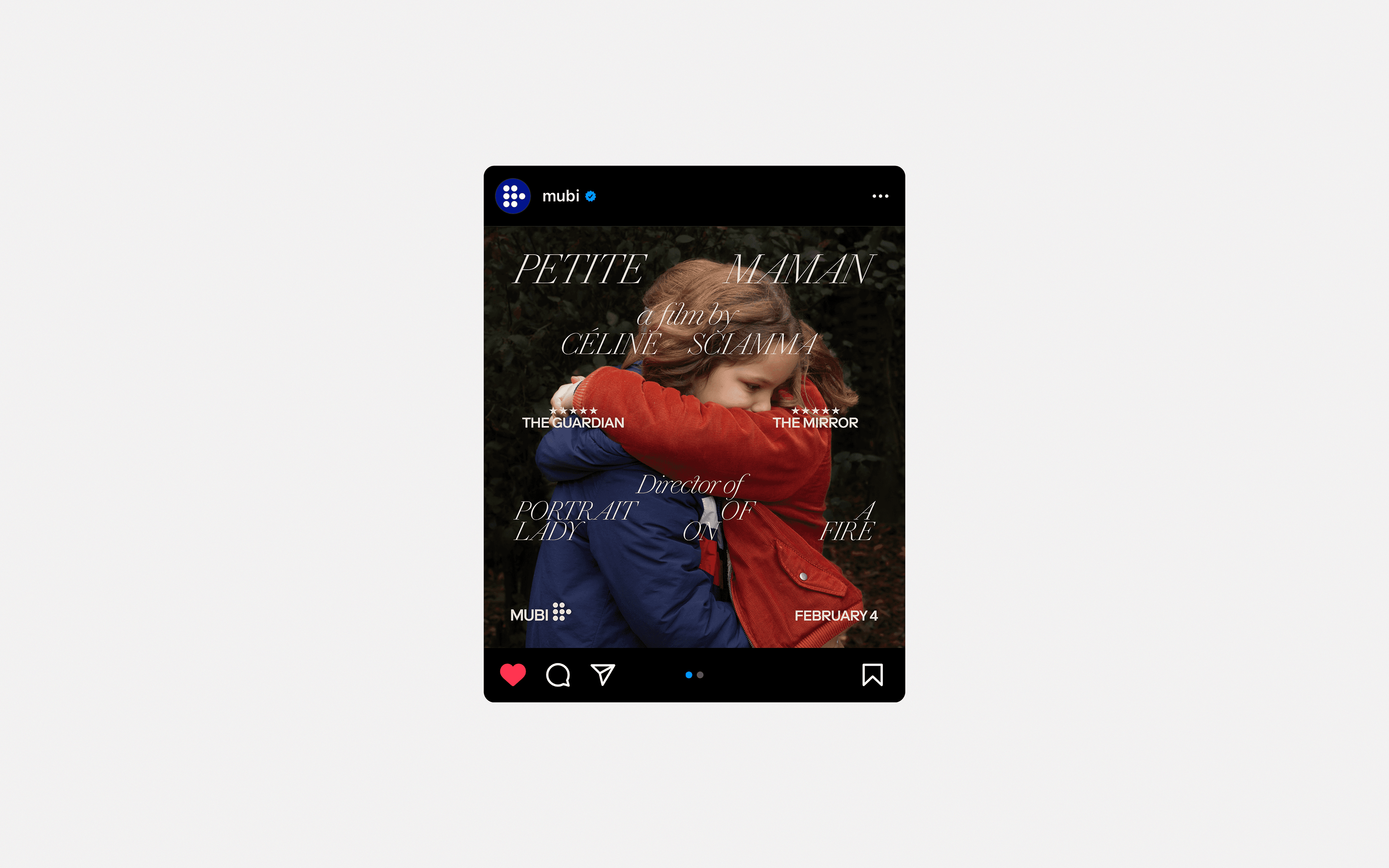 'In Love: The Cinema of Wong Kar Wai' was a MUBI season devoted to the illustrious Hong Kong director. Wong's films are sensual and lush, steeped in feeling and heavy with colour; from the emotional quiet storm of In the Mood for Love to the ecstatic needle-drop moments in Chungking Express, his filmmaking explores love in all its fraught pleasures. Our campaign for the season is built around bespoke lettering that references the shapes of Chinese hanzi characters. This is featured on large-scale outdoor advertisements, which feature various film stills and a colour palette which draws on the intense hues featured in Wong's cinematography.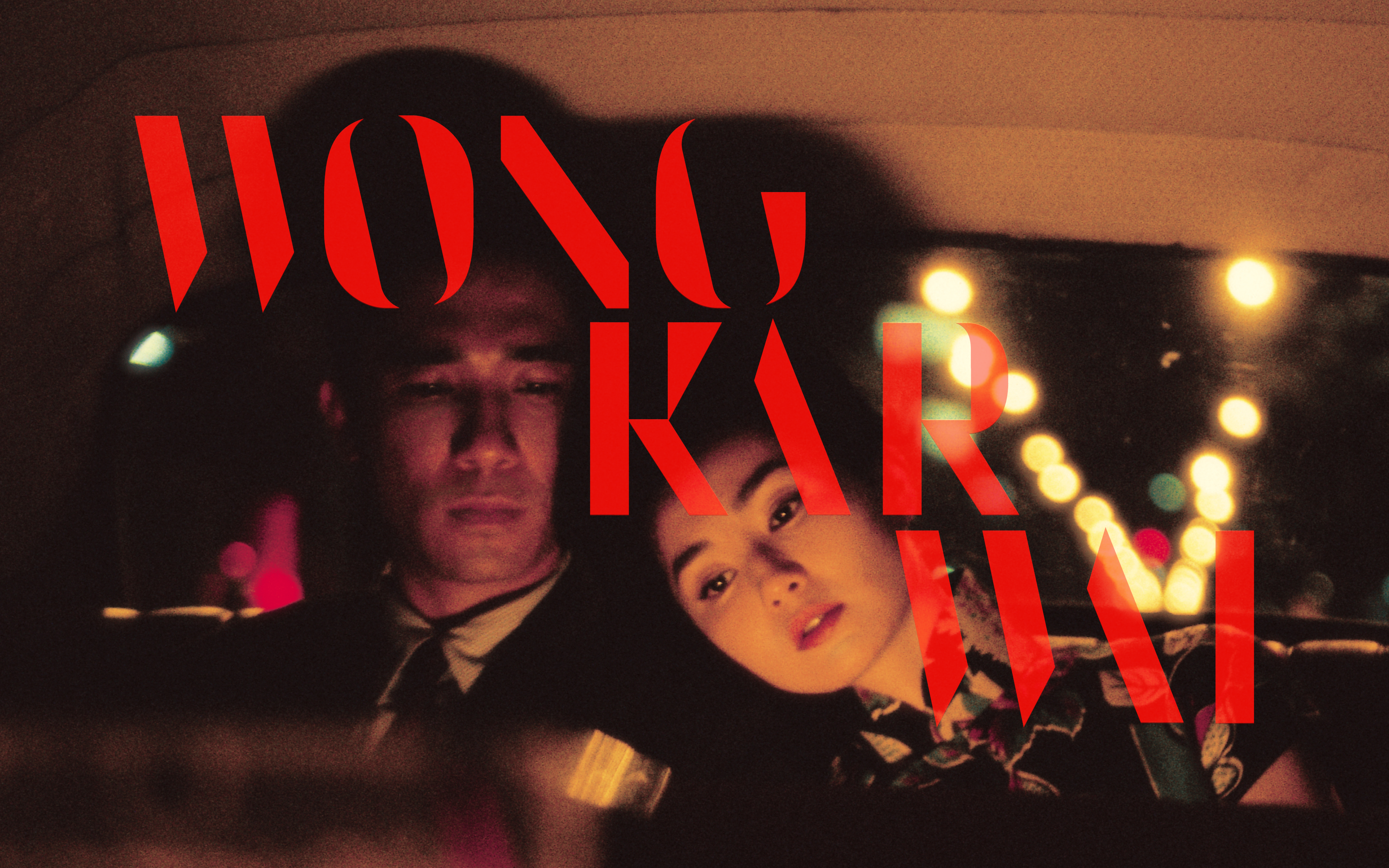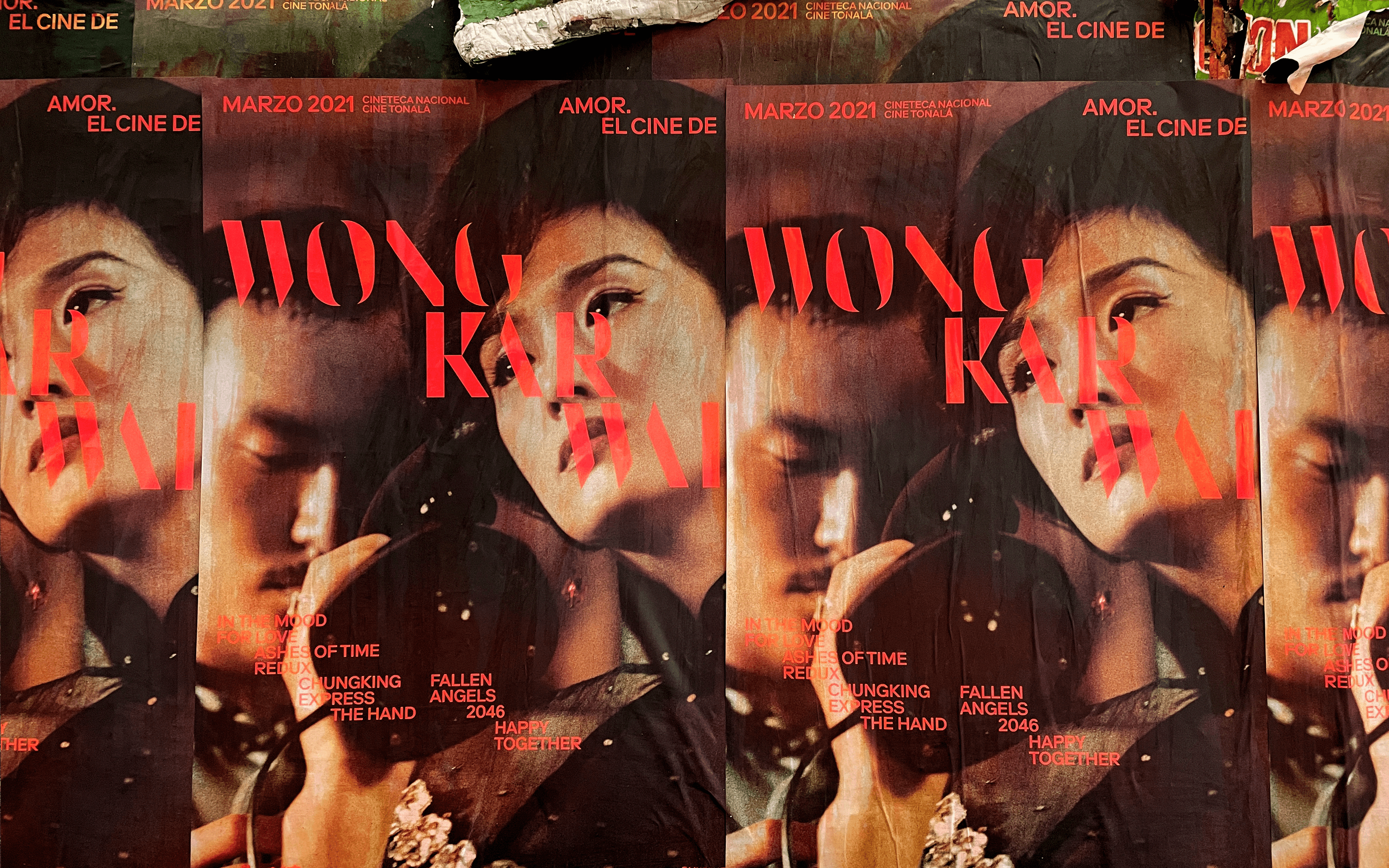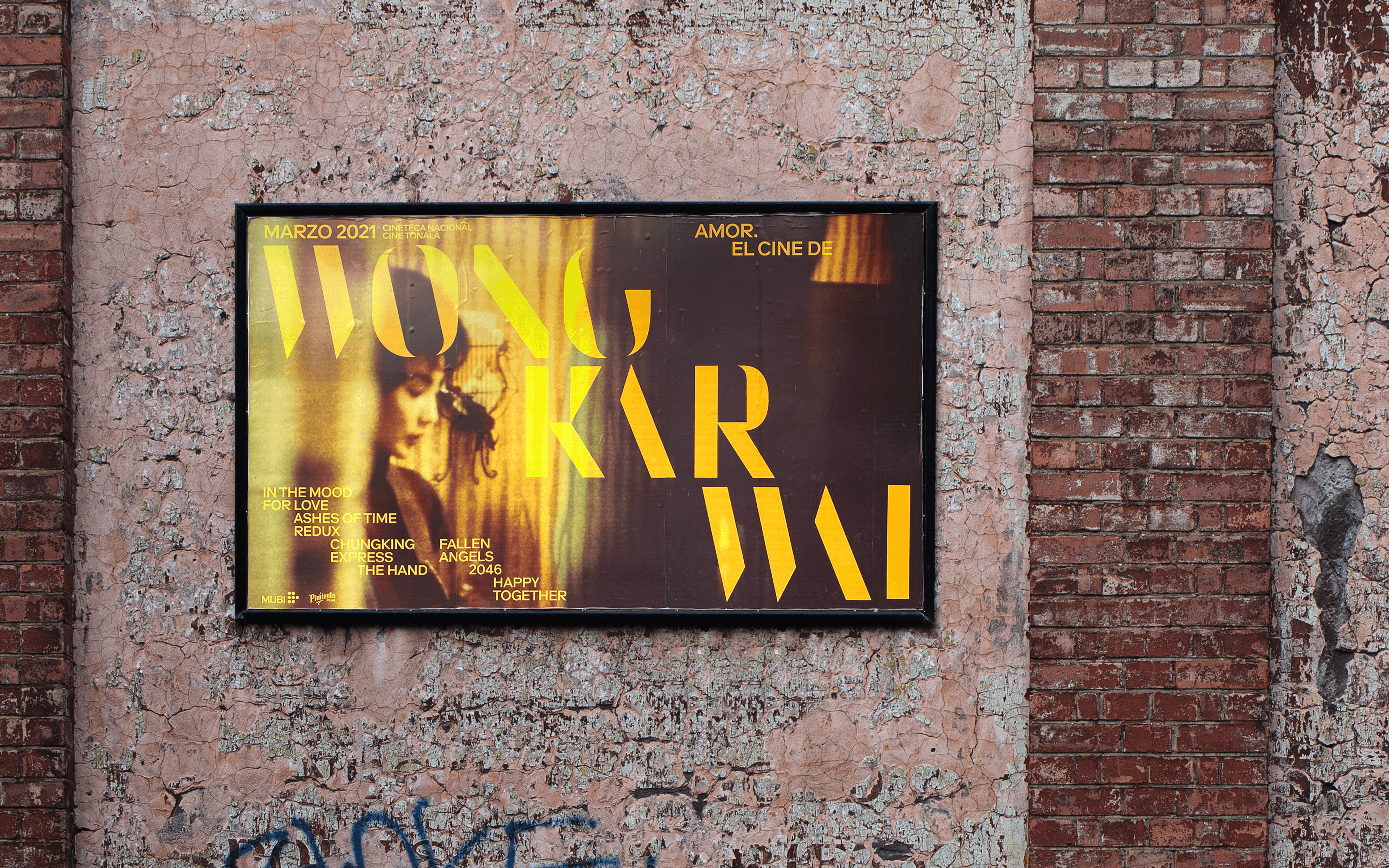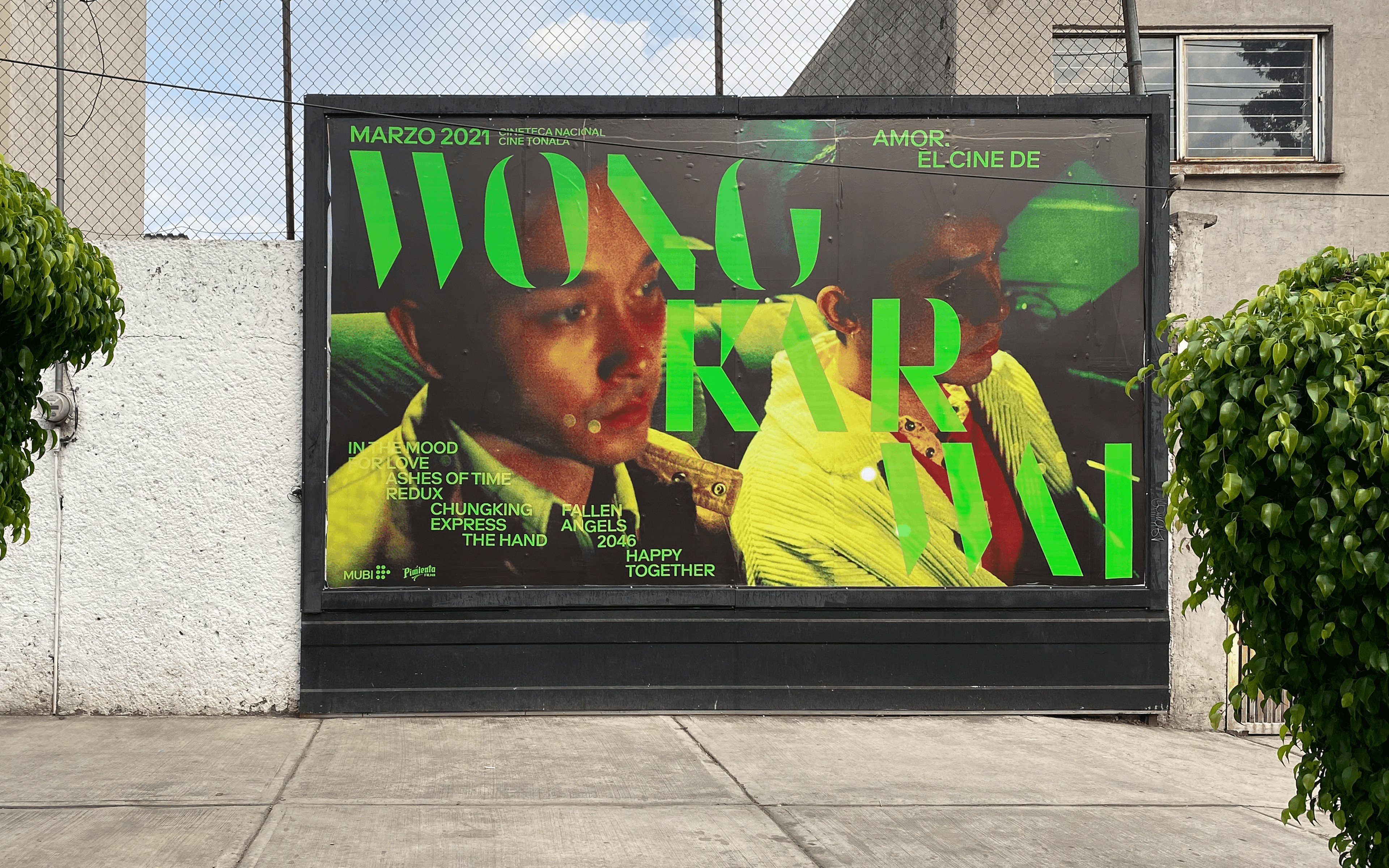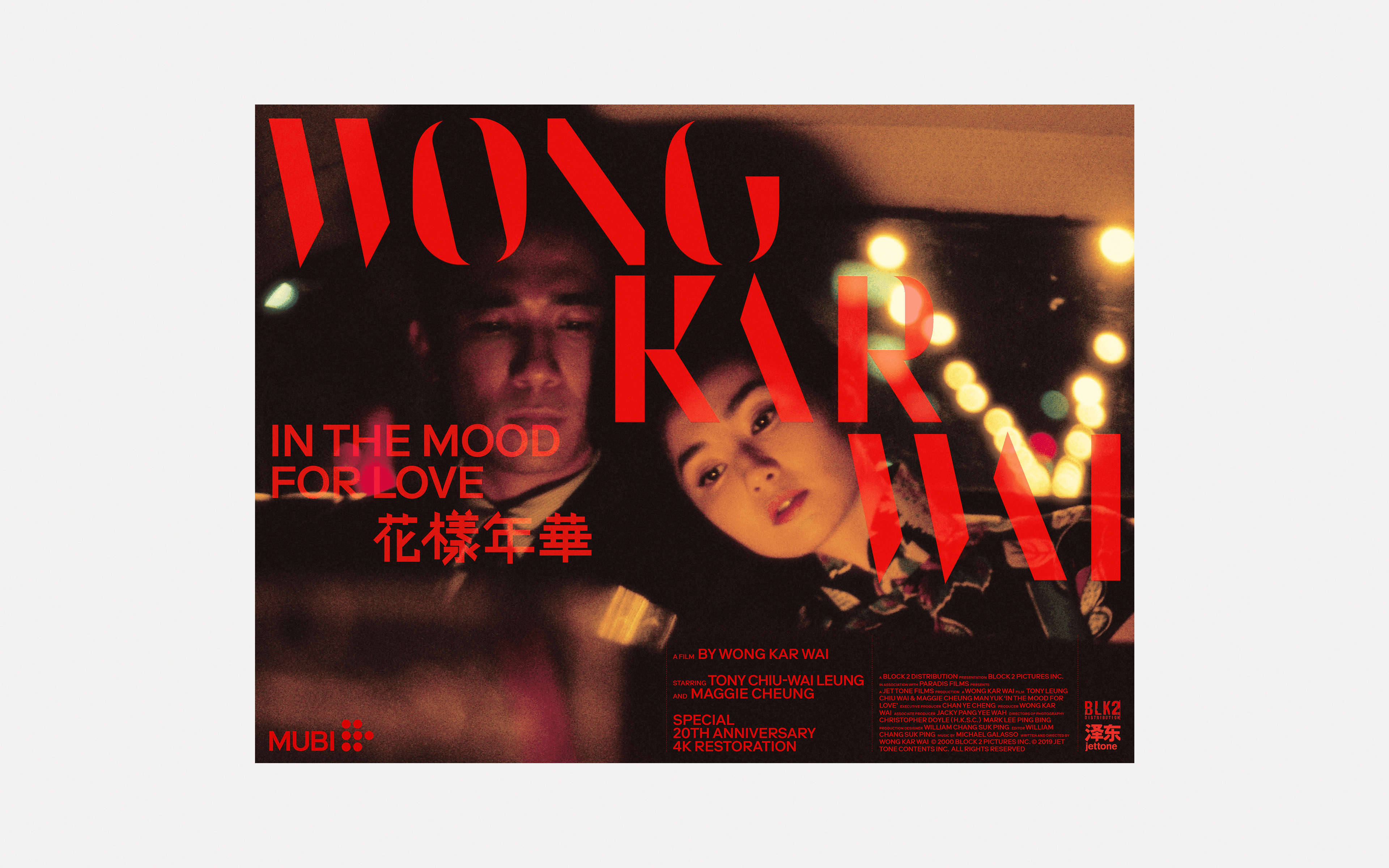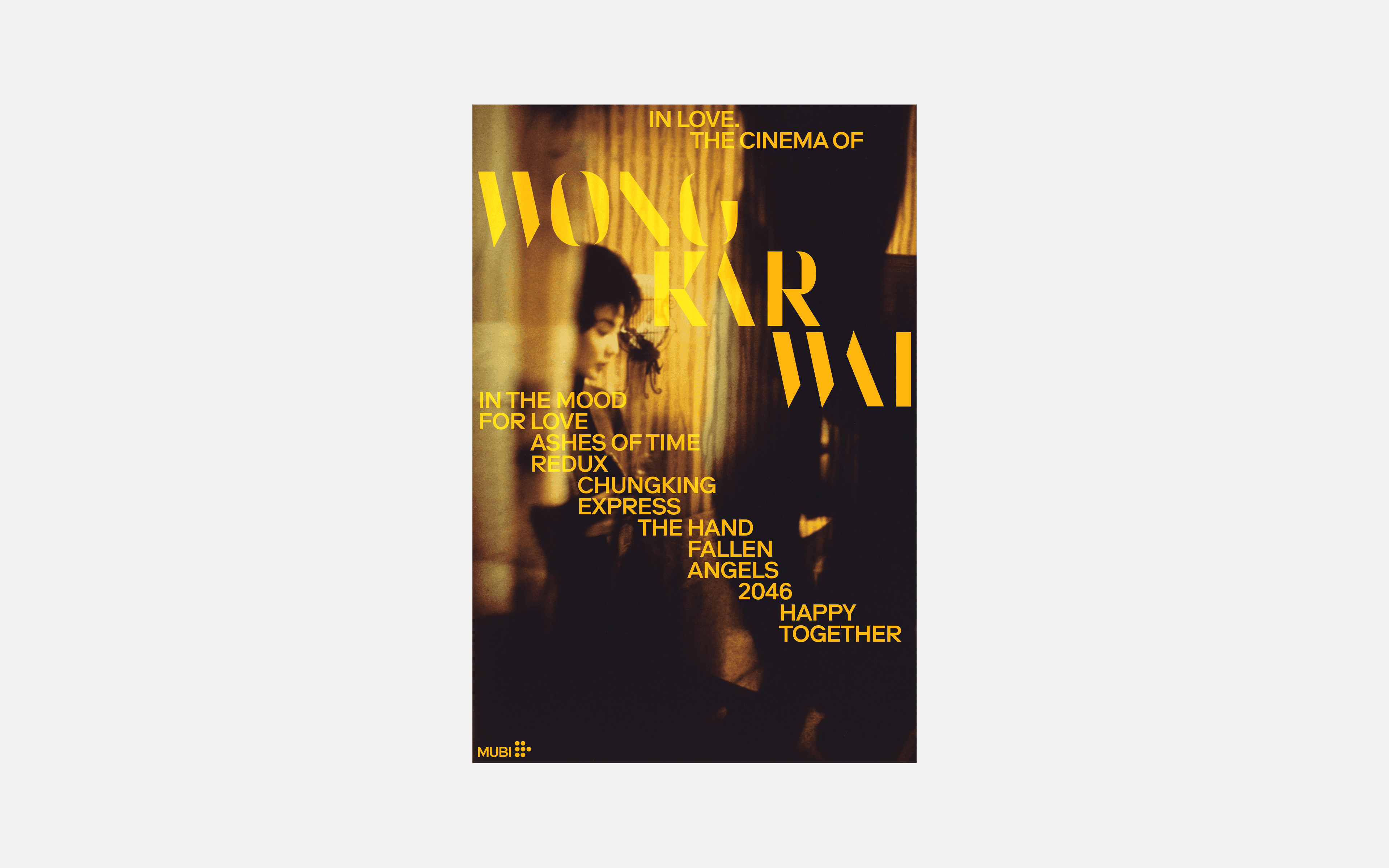 'Deadly Attractions and Sinful Desires' was a MUBI season turning the spotlight onto the transgressive Italian director Tinto Brass. In keeping with the boldness of his films, we designed a campaign that uses the key elements of typography and colour to maximum effect, and leaves the rest to the viewer's imagination. To this end, we created a spectacular, playful custom typeface, and paired it with a suggestive colour palette heavily featuring shades of pink and red.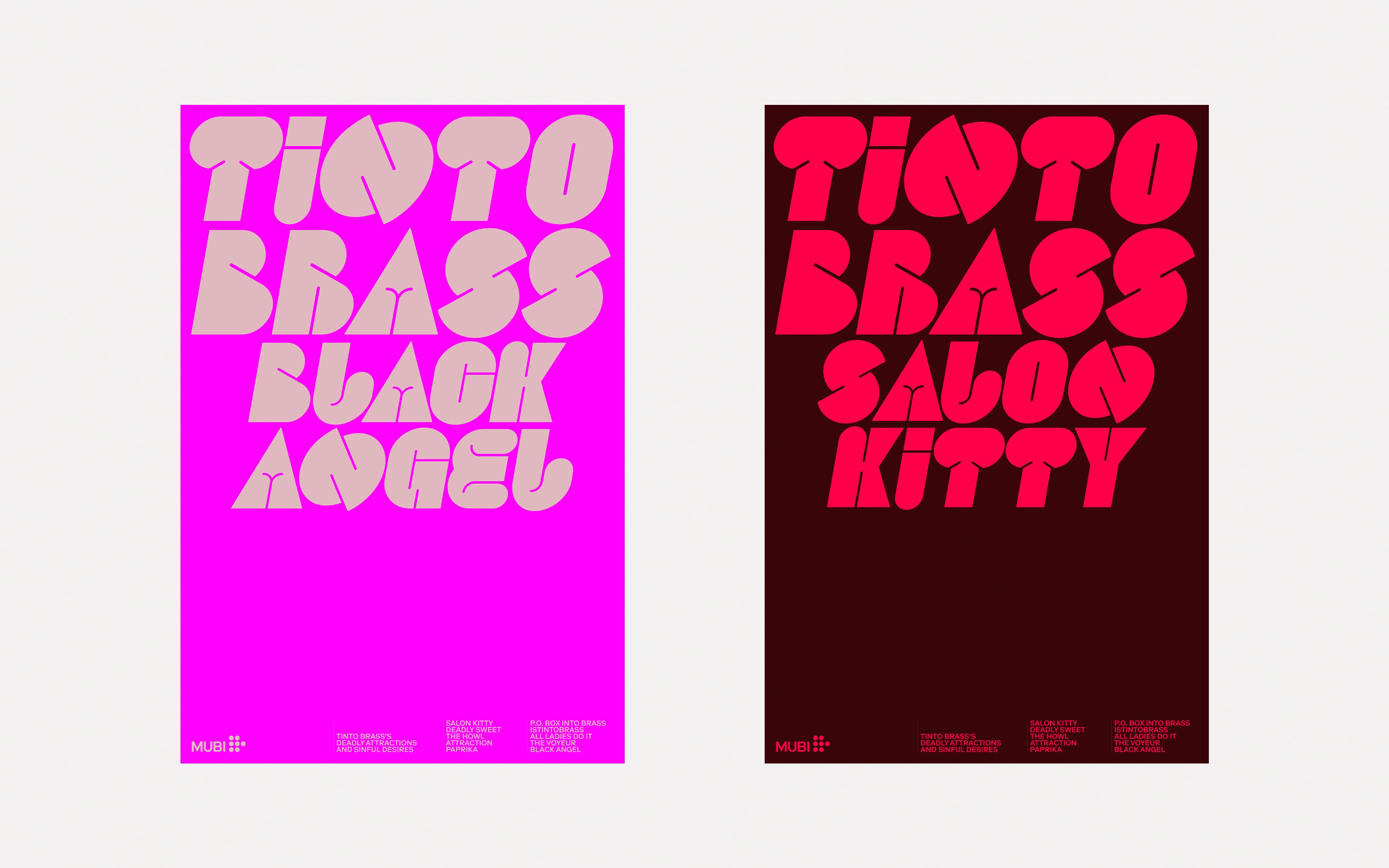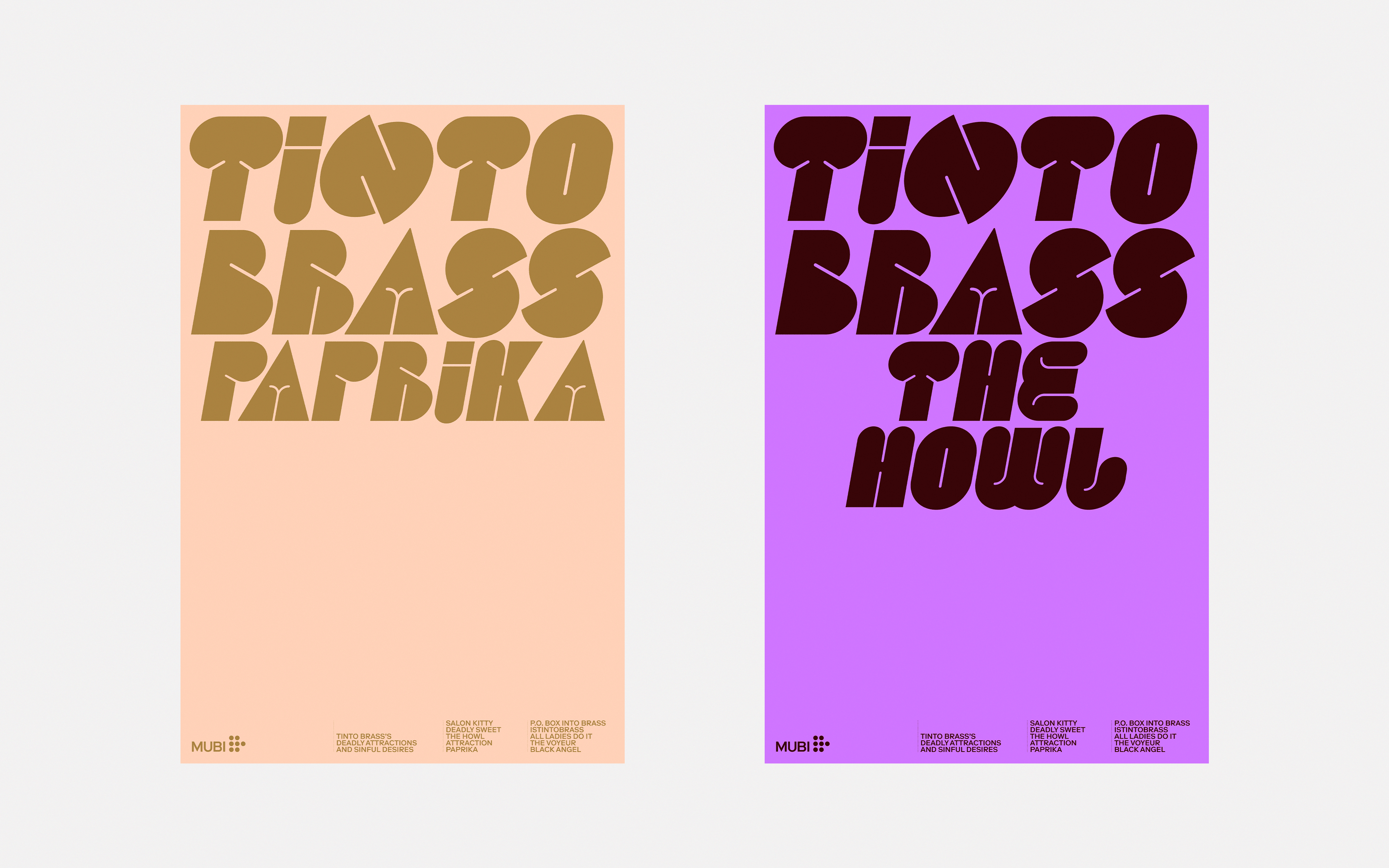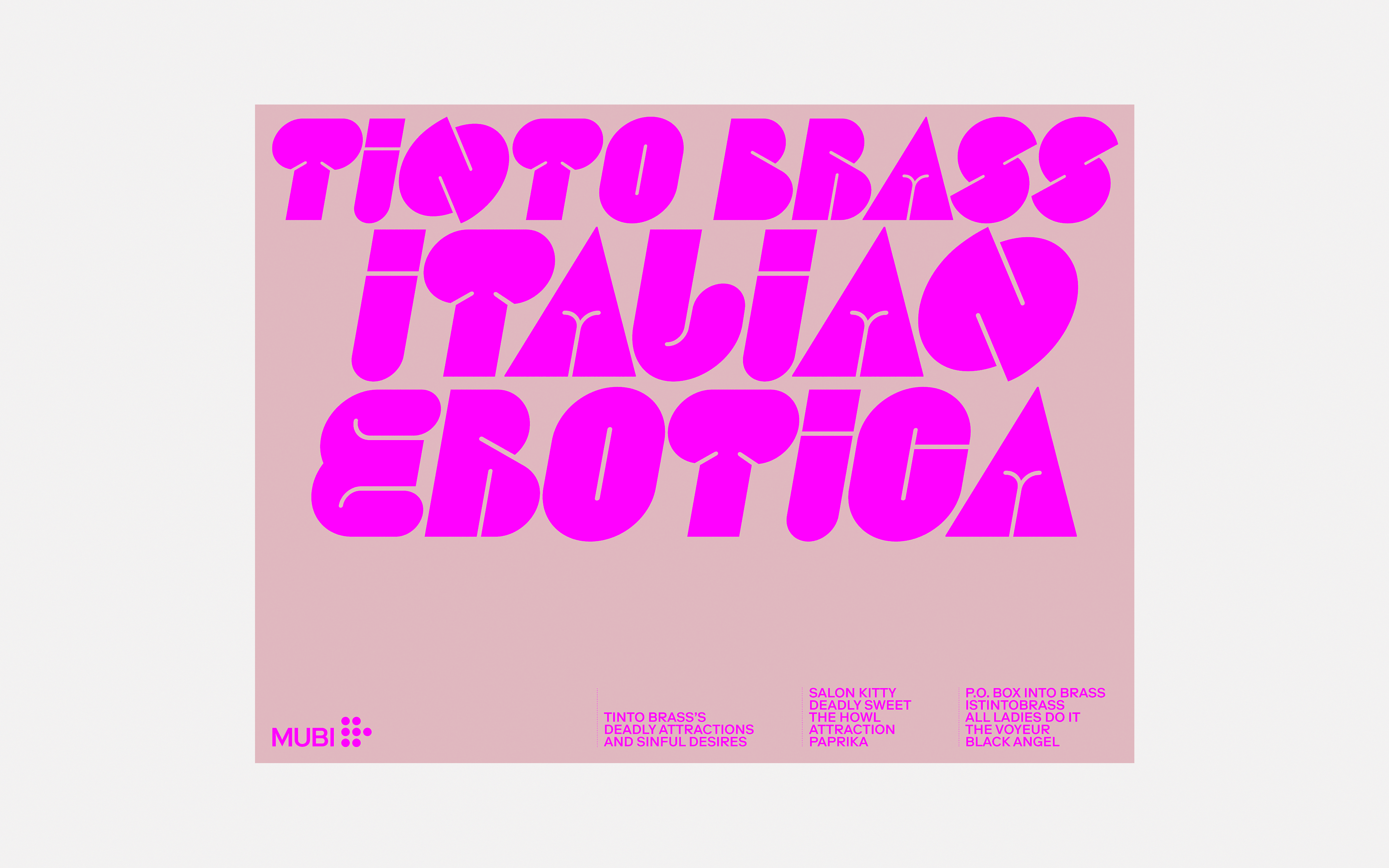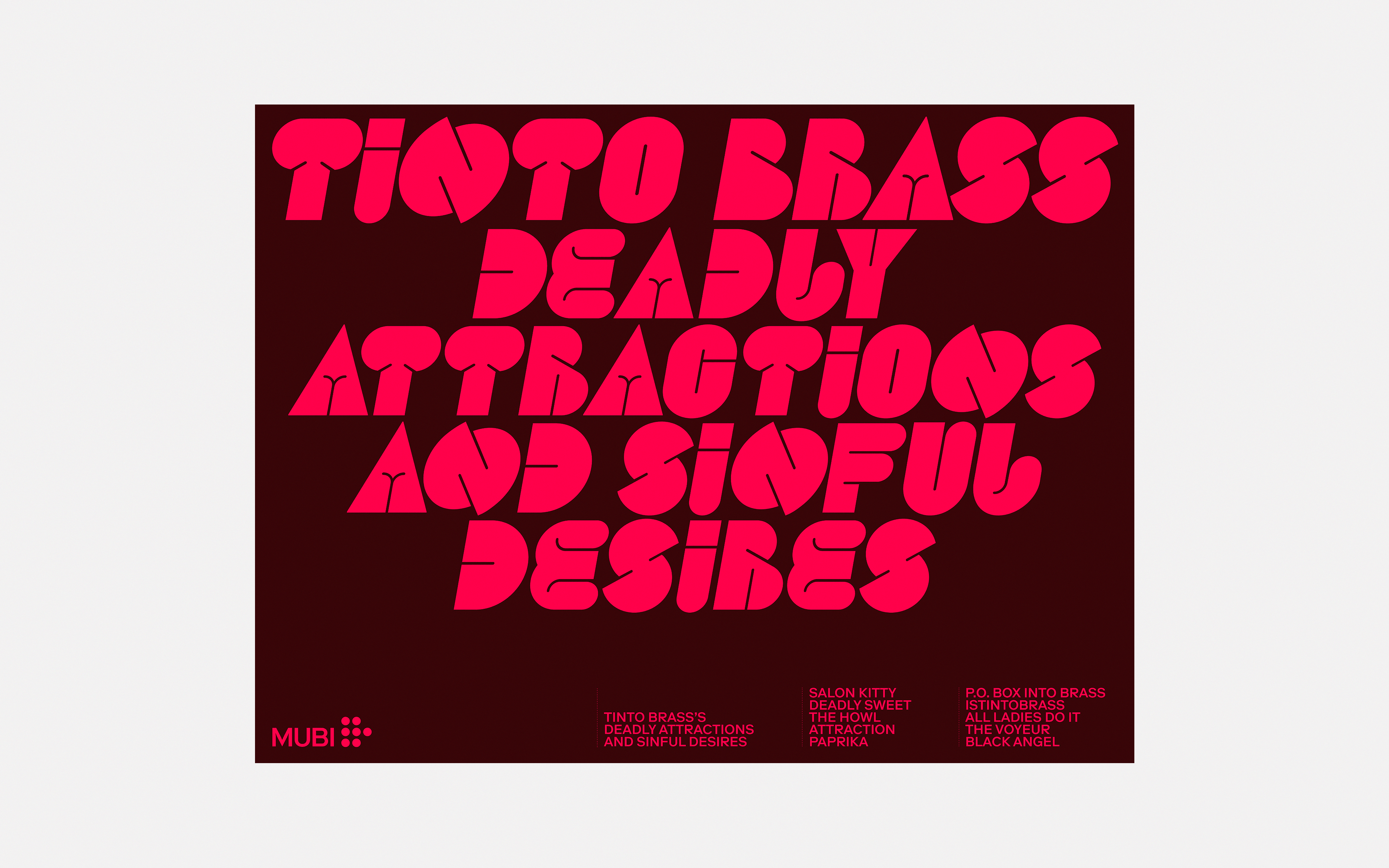 We have also designed campaigns for several other MUBI seasons. These include 'Perfect Failures', a curatorial collaboration between MUBI and Fondazione Prada taking a second look at works of misunderstood genius, and 'Fellini 100', a season celebrating the 100th anniversary of the birth of legendary Italian director Federico Fellini. Other MUBI films that we have produced campaigns for include Werner Herzog's unsettling drama Family Romance, LLC, Diao Yinan's Palme d'Or-nominated neo-noir thriller The Wild Goose Lake, David Robert Mitchell's parable of contemporary paranoia Under the Silver Lake, and several others.